Torqeedo Ultralight 403 Kayak Motor
For a limited time only: the hazardous shipping charge (value = $58.00) will be waved. Discount applied on the cart and checkout page.
Torqeedo Shipping Promo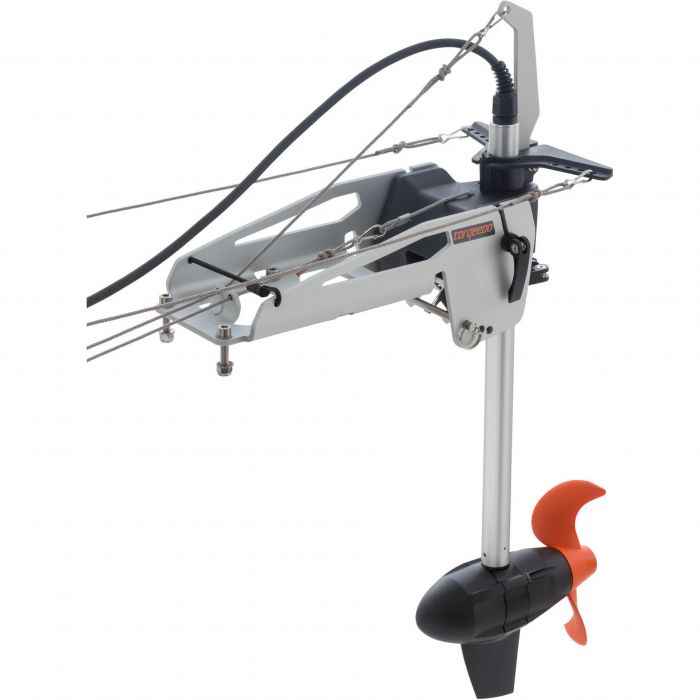 Torqeedo Ultralight 403 Kayak Motor
Item # 1009445
Description
Features:
Ultralight outboard – weighs only 19.4 lbs including battery
Gas Outboard Equivalent: 1 HP
Comes with charger, stepless remote throttle, GPS-based range calculation and emergency magnetic stop key
On-board computer with real-time display of remaining range, speed, charging status and more
Supplied with 320 Wh high-performance lithium battery
Battery includes integrated real-time GPS receiver and USB charging connection for powering an onboard light or charging mobile phones and other electrical devices
New angler mount with 4-position tilt and park mechanism, plus simple integration with the kayak's steering unit
Waterproof to IP67 (protected against temporary immersion to depth of 1 m)
Reverse Lock (motor will not tilt up while in reverse)
Specifications:
320 Wh option: 29.6V DC / 11 Ah
915 Wh option: 29.6V DC / 31 Ah
Gas Outboard Equivalent: 1 HP
Factory Warranty: 2 years (for recreational purposes). Warranty Begins on Date of Purchase.
Part Numbers for Torqeedo Ultralight 403 Kayak Motor