Raymarine Ray73 Dual Station Fixed Mount VHF Radio with GPS and AIS Receiver - E70517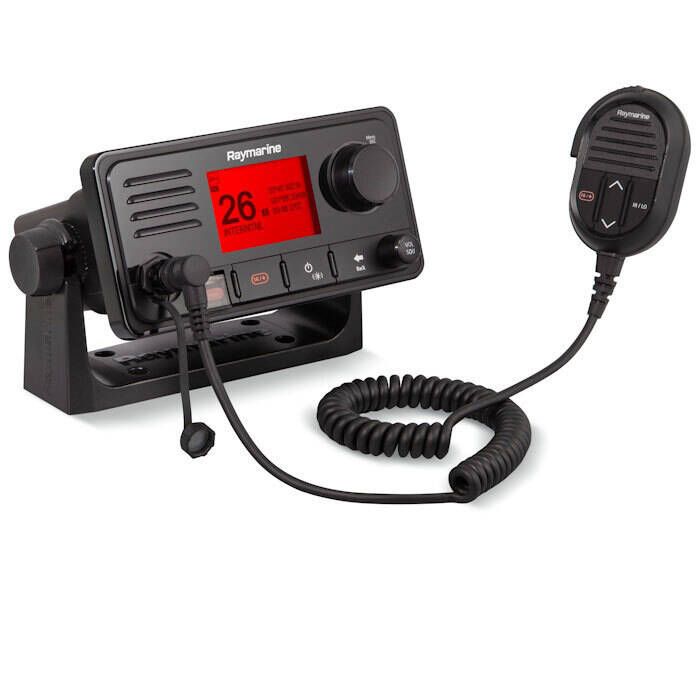 Raymarine Ray73 Dual Station Fixed Mount VHF Radio with GPS and AIS Receiver - E70517
Item # 878970
Description
Raymarine Ray73 VHF radio is communications central for your boat with built-in VHF, AIS and public-address capabilities. Built on Raymarine's full-sized marine radio chassis, the radio comes with oversized controls and a big screen for easy operation offshore.
This is a full-function VHF marine radio with Class D Digital Selective Calling (DSC) and a built-in GPS receiver. Simply program your boat's MMSI number into the Ray73 and immediately benefit from the enhanced calling and safety features of DSC. The Ray73 supports both NMEA2000 and legacy NMEA0183 networking, which enables connection to other onboard electronics. Ray73 also supports the connection of an optional remote speaker (A80542) to provide audio at a second location.
Includes a built-in loud-hailer output. Add the optional hailing horn (M95435) and use your Ray73 to communicate with crew members on deck, on the dock, or on another boat. It can also generate manual or automatic fog signals with built-in tone and gong sounds that comply with all international regulations.
Supports dual control stations with the addition of the optional RayMic second station kit. With an oversized LCD and simple controls, the RayMic is a compact all-in-one handset that fits easily on any secondary helm, tower or navigation station. Use RayMic for station-to-station intercom capability too.
Designed to comply with the latest international regulations and includes a connection point for an optional GPS/GNSS antenna system. The optional antenna improves the GPS reception when the radio is mounted below deck, in an enclosed pilothouse, or inside a metal enclosure. An attractive industrial design that complements Raymarine's Axiom family multifunction displays. The radio includes both a standard trunnion mounting kit as well as surface mounting hardware.
Features
Full-sized marine VHF with Digital Selective Calling
Built-in Automatic Identification System (AIS) receiver
Loud-hailer output for public address and fog signaling
Optional RayMic second station kit for full remote control
Built-in GPS/GNSS receiver with optional external antenna connection
Compatible with Raymarine wireless hub and wireless handset
Surface and trunnion mount kits included
Environmental Specifications:
Operating temperature: -4° F (-20°C) to 140° F (+60° C)
Storage temperature: -13° F (-25° C) to 158° F (+70° C)
Relative humidity: 95%
Water proofing: IPx6 & IPx7
Connections

1 x NMEA 0183
1 x SeaTalk ng ® / NMEA 2000
1 x Front FistMic connection
1 x Rear connection for 2nd station
1 x Audio (RCA)
1 x Loud-hailer connection wires
1 x GNSS (GPS) antenna (TNC)
Power Specifications:
Nominal supply voltage 12 V dc (Reverse polarity and over voltage protection)
Operating voltage range 9 V dc to 16 V dc
Current consumption

Less than 6 Amp at high power (13.6 V)
Standby: 600 mA
Receive: 2 Amp
Loud-hailer: 3 A (8 Ω) / 6 A (4 Ω)
Transmitter Specifications:
Channels: All available US, International and Canadian VHF marine bands
Frequency Range: 156.000 MHz to 157.425 MHz / 155.500 MHz to 161.425 MHz (Private channels
Frequency stability: ± 1.5 ppm
Channel Spacing: 12.5 kHz
Power Output:

Low power setting: 1 W
High power setting: 25 W

Spurious emissions: Better than -36 dBm at 25 W (Less than 0.25 µW)
Maximum deviation: ± 5 kHz
Antenna impedance: 50 Ohms (typical)
Receiver Specifications:
Receiver type: Double conversion super heterodyne
Channels: All available US, International and Canadian VHF marine bands
Frequency range: 156.050 MHz to 163.275 MHz / 155.500 MHz to 161.425 MHz (Private channels)
Sensitivity: Better than 1 microvolt EMF @ 20dB SINAD
Squelch sensitivity: Less than -2 dBµ EMF
Hum and noise: Better than -40 dB
Audio distortion: Less than 10%
Receiver sensitivity

Distance: 119dBm (0.25uV) @ 12dB SINAD (typical)
Local: 110dBm (0.7uV) @ 12dB SINAD (typical)

Adjacent channel selectivity: More than 70 dB
Spurious response rejection: More than 70 dB
Inter modulation rejection: More than 68 dB
Speakers Specifications:
Base station speaker power output: 2.5 W (8 Ω)
FistMic speaker power: 1 W (16 Ω)
External speaker power: 5 W (8 Ω)
Handset speaker power output: 1 W (16 Ω)
Hailer speaker power output: 25 W (4 Ω) / 12 W (8 Ω)
GNSS (GPS) Specifications:
Channels: 72
Cold start: < 2 minutes
Receiver IC Sensitivity: -167 dBm (Tracking) / -148 dBm (Acquisition)
GNSS compatibility
SBAS compatibility
Special features Active Jamming and Interference Reduction
Operating frequency

GPS L1 C/A
GLONASS L10F
Beidou B1

Signal Acquisition: Automatic
Almanac update: Automatic
Geodetic Datum: WGS-84 (alternatives available through Raymarine MFD)
Refresh Rate: 10 Hz (10 times per second Concurrent GNSS)
Antenna:

Internal: Ceramic chip mounted near top of unit
External: Passive antenna connection via TNC connector

Position Accuracy

Without SBAS: <= 15 meters 95% of the time
With SBAS: <= 5 meters 95% of the time
In the Box:
VHF Radio
FistMic
Mounting bracket (Trunnion)
Mounting bracket knobs
FistMic hook plate
Documentation
Panel mount gasket
Mounting hardware
Sun cover
Protective antenna boot
SeaTalk® blanking plug
SeaTalk® 400mm (15.7 in) spur cable
Part Numbers for Raymarine Ray73 Dual Station Fixed Mount VHF Radio with GPS and AIS Receiver - E70517