Navisafe Navilight 360 deg LED Navigation Light - Navisafe-001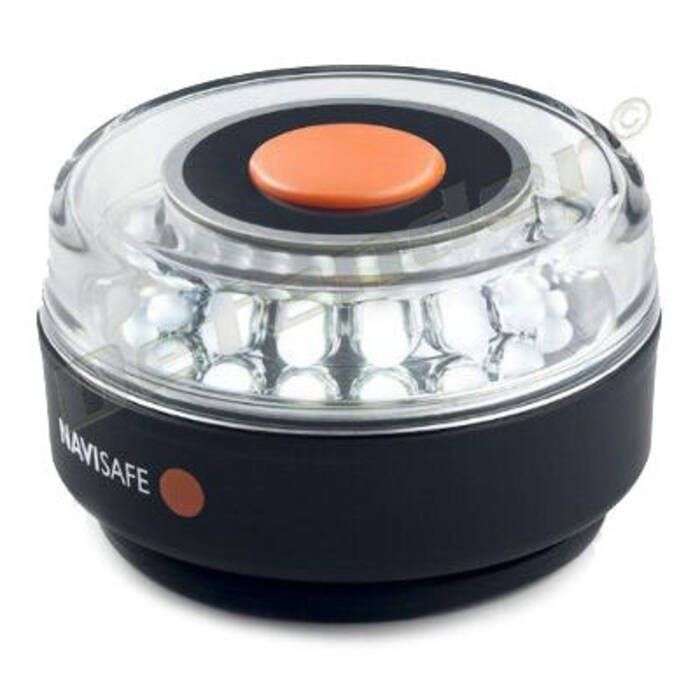 Navisafe Navilight 360 deg LED Navigation Light - Navisafe-001
Item # 876016
Description
Navisafe's Navilight 360° LED Navigation Light is the most versatile light of Navisafes range or portable navigation lights and includes a 360° all-round light, 225° masthead light, 135° stern light, flashing light and a dim function.
Features:
First battery-operated LED navigation light to receive USCG approval for (2) nautical miles
Multifunctional all-round LED safety light
Rugged build, durable and impact resistant
Lightweight, sealed unit is air-tight
Waterproof to depth of 65 ft., floats in water with light facing up
Simple push-button on / off control
Ultra-compact size, small enough to fit inside a pocket
Cost effective, super bright LED light
Includes double magnet bracket, mounting screw and (3) lanyards for multiple mounting options
Magnetic fastening for mounting almost anywhere on your boat
Suitable for use on sailboats or powerboats up to 39 ft
(5) Operating modes:

360° Constant light (16 white LEDs)
360° Flashing light (16 white LEDs)
225° Forward (10 white LEDs)
135° Stern (6 white LEDs)
360° Dim function (4 white LEDs)
Specifications:
Light color: White
Light source: 16 LEDs
Visibility: 2 NM (USCG approved)
Mounting: Double magnet bracket mount
Power source: (3) AAA batteries (Sold separately)
Switch mechanism:

Press & hold for 2 sec. to activate light
Press & hold for 2 sec. to deactivate light

Burn time / modes:

13 - 15 Hours constant light
80 - 85 Hours flashing light
22 - 24 Hours forward light (10 bulbs only)
30 - 32 Hours stern light (6 bulbs only)
70 - 72 Hours dim function (4 bulbs only)

Housing color / finish: Black / matte finish
Dimensions: 2.68" OD x 1.38" H
Approvals: USCG, IMO COLREG
Note: imperial dimensions are approximate, the manufacturer built this product to metric specs.
Navisafe Navi light 360° LED Navigation Light Installation Guide
Part Numbers for Navisafe Navilight 360 deg LED Navigation Light - Navisafe-001