Mercury 750W Tiller Electric Outboard Motor - Avator 7.5e - 2024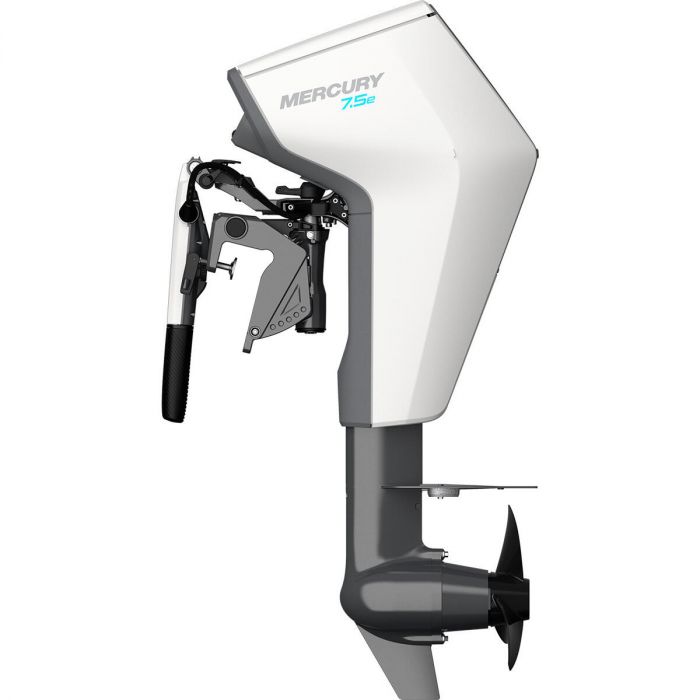 Mercury 750W Tiller Electric Outboard Motor - Avator 7.5e - 2024
Item # 969095
Description
The Mercury Avator 7.5e electric outboard delivers speed and acceleration performance similar to a 3.5 HP internal combustion outboard, making it ideally suited for a variety of small boats, tenders and as secondary power on sailboats. The Avator 7.5e electric outboard delivers clean, quiet power that's as simple to use as it is fun to drive. Featuring a quick-connect battery and intuitive controls that make setup and operation a breeze. With advanced displays and other technologies that monitor your battery level and range, you can explore the water with confidence. Just grab the controls and point the bow toward adventure. Avator makes getting there effortless.
Features:
Smooth and Quiet:

With its whisper-quiet motor and ultra-smooth performance, a Mercury Avator electric outboard will get you where you're going without interrupting the conversation

Quick-Connect Battery:

The 1 kWh lithium-ion battery has no cables to connect
It slides into place under the flip-up top cowl, saving you valuable space within the boat
Need to go even farther? No problem. You can bring along an available spare battery that swaps into place in seconds

Multi-Purpose Tiller Handle:

Designed to let anyone take the helm with confidence
Adjusts up, down, left or right for comfortable steering from any position or with either hand
Folds down to become a convenient carrying handle

Strong Transverse Flux Motor:

Industry-first transverse flux motor technology, the Avator 7.5e outboard delivers 750W of power at the prop shaft
The motor generates high torque with little effort, maximizing battery life and range while providing quick, efficient performance

Safe Boating by Design:

Explore safely and with confidence knowing your outboard is digitally monitoring the propulsion system and can alert you if there are issues
All Avator outboards also include an emergency stop lanyard

High-Efficiency Prop:

Crafted of a high-strength, impact-resistant composite material
Three-blade design maximizes thrust for longer battery life with minimal noise and vibration
Specifications:
Input Power: 916W
Rated Prop Shaft Power: 750W (which is comparable in speed and acceleration to that of a 3.5hp internal combustion outboard)
Rated Voltage: 48V
Battery: Integrated 1 kWh
Battery Type: Li-Ion
Battery IP Rating: IP67
Charger (Standard): 110W
Total Weight Excluding Battery: 43 - 46.3 lbs
Battery Weight (1kWh): 17 lbs / 7.7 kg
Steering: Tiller
Shaft length: 15", 20", or 25"
Standard propeller: 12.7" x 7"
Factory warranty: 3 years (pleasure applications), 1 year (commercial applications). Warranty begins on date of purchase.
Included:
1 kWh Battery
100W charger
7" Propeller
Note: do not use aftermarket propellers with this product. The use of an aftermarket propeller may result in damage.
Part Numbers for Mercury 750W Tiller Electric Outboard Motor - Avator 7.5e - 2024