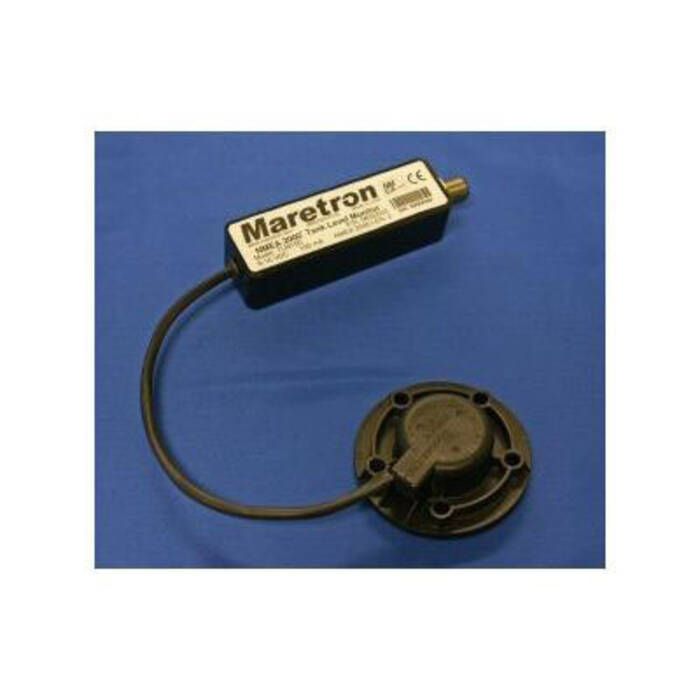 Maretron Tank Level Sender - TLM150-01
Item # 874320
Description
The TLM150 is used to sense levels of gasoline tanks using ultrasonic technology and transmit the gasoline levels over the NMEA 2000® network. This allows you to observe gasoline tank levels anywhere on the vessel where there is an NMEA 2000® compatible display such as the Maretron DSM250. The TLM150 is capable of sensing gasoline tanks up to 24" (0.61m) in depth. It must be used only for tanks containing gasoline.
Unlike most tank senders that only work with rectangular tanks, the TLM150 can be calibrated for irregular tank shapes so you know the true level of your tanks. The TLM150 can be mounted on tanks with a SAE J1810 5-hole mounting pattern, or to tanks using 1.5" NPT or 1.25" BSP threaded openings via available adapters. The TLM150 has an optional focus tube to allow use on boats with planking hulls when the vessel spends a significant amount of time with the bow pitched up.
The Maretron TLM150 is designed to operate within the harsh demands of the marine environment. However, no piece of marine electronic equipment can function properly unless installed, calibrated, and maintained in the correct manner.
Features:
Gasoline Tanks: The TLM150 is ONLY intended for use in tanks containing gasoline
Do not use the TLM150 in tanks containing diesel fuel, water, oil, or other liquids
Use in tanks containing other liquids will result in inaccurate readings
Transmits liquid levels over an NMEA 2000® Interface
Integrated ultrasonic level sensor
Can be used in tanks up to 24" (0.61m) deep
Mounting: SAE J1810 5-hole, 1.5" NPT, or 1.25" BSP
Accommodates Irregularly Shaped Tanks with (16) Point Calibration
Tank Type: Fuel (Gasoline only)
Programmable Tank Number(s) Up to (16) per Tank Type
Programmable Tank Capacity
Specifications:
Electrical
Operating Voltage: 9 to 16V DC Voltage
Power Consumption: <100mA Average Current Drain
Load Equivalence Number (LEN): 2 [ NMEA 2000® Spec. (1LEN = 50mA)]
Reverse Battery Protection: Yes (Indefinitely)
Load Dump Protection: Yes (Energy Rated per SAE J1113)
Mechanical
Size:
3.9"" x 1.2" x 1.0" (99mm x 30.5mm x 25.4mm) Interface Component
2.7" dia. X 0.9" (68.6mm dia. x 22.9mm) Sensor Component
8.5" (215.9mm) Interconnecting Cable
Weight: 12 oz. (340g)
Mounting: SAE J1810 5-hole bolt pattern Can mount to 1.25" BSP or 1.5" NPT using available adapters
Environmental
IEC 60945 Classification: Exposed
Degree of Protection: IP67
Operating Temperature: -25°C to 55°C
Storage Temperature: -40°C to 70°C
Relative Humidity: 93%RH @40° per IEC60945-8.2
Vibration: 2-13.2Hz @ ±1mm, 13.2-100Hz @ 7m/s2 per IEC 60945-8.7 Rain and Spray 12.5mm Nozzle @ 100liters/min from 3m for 30min per IEC 60945-8.8
Solar Radiation: Ultraviolet B, A, Visible, and Infrared per IEC 60945-8.10
Corrosion: (Salt Mist) 4 times 7days @ 40°C, 95%RH after 2 hour Salt Spray Per IEC 60945-8.12
Electromagnet Emission: Conducted and Radiated Emission per IEC 60945-9
Electromagnetic Immunity: Conducted, Radiated, Supply, and ESD per IEC 60945-10
Safety Precautions: Dangerous Voltage, Electromagnetic Radio Frequency per IEC 60945-12
TLM150 Accessories:
TA-5H-1.5NPT 1.5" NPT Displacement Hull Tank Adapter
TA-5H-1.25BSP 1.25" BSP Displacement Hull Tank Adapter
TFT-5H SAE 5-Bolt Pattern Non-Displacement Hull Focus Tube
TFT-1.5NPT 1.5" NPT Non-Displacement Hull Focus Tube
TFT-1.25BSP 1.25" BSP Non-Displacement Hull Focus Tube
See More Information for this Product
WARNING
---
This product can expose you to chemicals which are known to the State of California to cause cancer, birth defects or other reproductive harm.
For more information go to www.p65warnings.ca.gov.
Part Numbers for Maretron Tank Level Sender - TLM150-01