Garmin SmartPump V2 Hydraulic Autopilot Steering Pump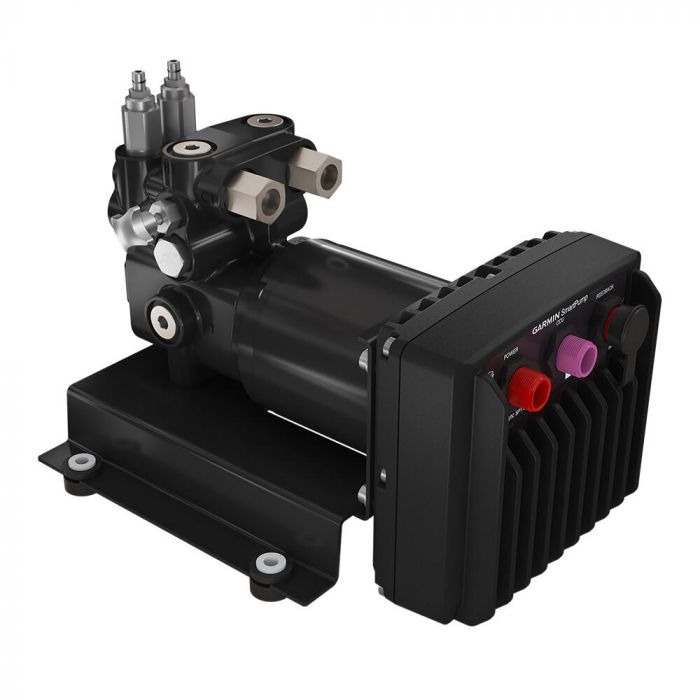 Garmin SmartPump V2 Hydraulic Autopilot Steering Pump
Item # 956043
Description
Put an end to guessing which pump size will work with your particular boat. One SmartPump v2 works for most hydraulically steered boats and applications. For optimum control and confidence, you know you have the right pump for your boat. Plus, you get complete control in a smaller size with better thermal performance, higher reliability and lower power consumption. It also includes color-coded connectors to make it very easy to install.
Our SmartPump v2 features reduced overall size and weight from the previous version while maintaining corrosion-resistant components, including black dye on aluminum parts and nickel-plating on all steel parts.
Specifications:
Dimensions (H xW x D): 6.6" x 7.5" x 10.4" (167.6 x 190.5 x 264.16 mm)
Weight: 16.5 lbs (7.5 kg)
Temperature range: From 5°F to 131°F (from -15°C to 55°C)
Material: Electronics Control Unit (ECU) - fully gasketed, aluminum alloy; bracket - carbon steel; manifold - aluminum alloy; motor - aluminum alloy
Power cable length: 9' (2.7 m)
Power input: 10-30V DC
Fuse: 40 A, blade-type
Main power usage: standby - less than 1 A; engaged - 5-10 A; peak - 34A
Flow rate: Configurable from 0 to 2.4 L per minute
Compatible with steering cylinder sizes from 4-24 cu in; 7 second lock to lock up to 17 cu in
Installation Instructions (1.05 MB)
WARNING
---
This product can expose you to chemicals which are known to the State of California to cause cancer, birth defects or other reproductive harm.
For more information go to www.p65warnings.ca.gov.
Part Numbers for Garmin SmartPump V2 Hydraulic Autopilot Steering Pump