Garmin Reactor 40 Hydraulic Corepack with SmartPump V2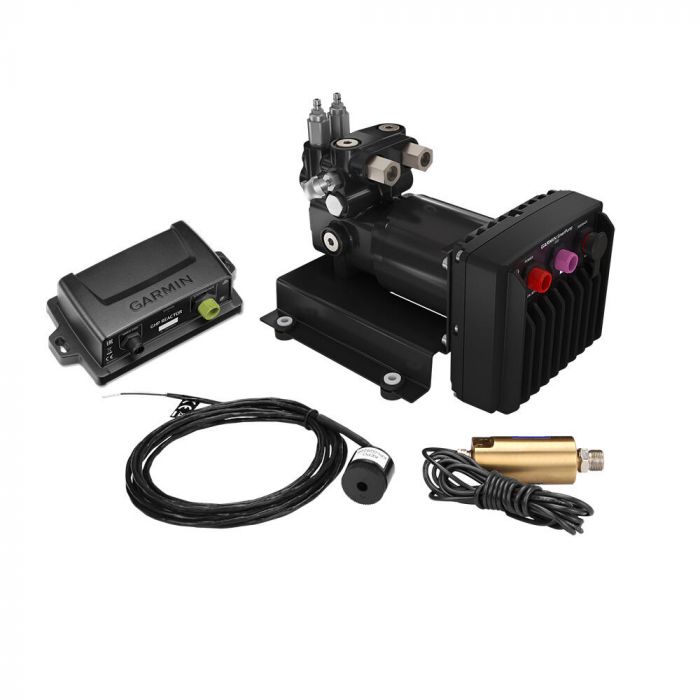 Garmin Reactor 40 Hydraulic Corepack with SmartPump V2
Item # 956093
Description
Designed for powerboats, this Reactor 40 hydraulic corepack with SmartPump gives you the extra hand you need, so you can explore paradise worry-free.
Features:
This corepack's compact, brushless SmartPump fits most sailboats and powerboats with a hydraulically steered boating system. It requires a compatible Garmin chartplotter or GHC autopilot instrument
The SmartPump v2 is a one-size-fits-most solution that provides optimal control and confidence on the water. Plus, gain better thermal performance, higher reliability and lower power consumption
With its advanced solid-state 9-axis AHRS, you can mount Reactor 40 nearly anywhere, in any orientation. It even reduces power consumption, minimizes heading error and more
Hold your course on the sea this autopilot reacts to conditions, so you can remain confident even when you're pitching or rolling
All autopilots require commissioning and calibration. Reactor 40 makes it quick and easy
Gain more freedom when maneuvering your boat. This corepack allows for optional Shadow Drive technology to automatically disengage the autopilot when you turn the wheel
Control your autopilot from anywhere on your boat by using your compatible Garmin devices, including the Reactor autopilot remote, select quatix marine smartwatches and more (requires a compatible Garmin chartplotter or GHC 50 autopilot instrument)
Optional GHC 50 Features:
Bright 5" anti-glare WVGA touchscreen
Edge-to-edge glass display aligns perfectly with your high-end GPSMAP chartplotters, creating a stunning look for your helm
Controled by wired or wireless remote for a navigation experience that works best for you
If you have multiple compatible Garmin devices on your boat, you can share information among them for a more integrated marine system
Works with all GHP Reactor autopilots, select Quatix multisport marine smartwatches, the Garmin autopilot remote and GRID 20 remote
Specifications:
Dimensions (H xW x D): 7 3/4" x 7 1/2" x 9 5/8" (197 mm x 190 mm x 244 mm)
Weight: 16.5 lbs (7.5 kg)
Temperature range: From 5°F to 131°F (from -15°C to 55°C)
Material: Electronics Control Unit (ECU) - fully gasketed, aluminum alloy; bracket - carbon steel; manifold - aluminum alloy; motor - aluminum alloy
Power cable length: 9' (2.7 m)
Power input: 11.5-30V DC
Fuse: 40 A, blade-type
Main power usage: standby - less than 1 A; engaged - 5-10 A; peak - 34A
Flow rate: Configurable from 0 to 2.4 L per minute
Compatible with steering cylinder sizes from 4-24 cu in; 7 second lock to lock up to 17 cu in
Dimensions: 3 19/32" diameter (91.4 mm)
Weight: 5.6 oz (159 g)
Temperature range: From 5°F to 131°F (from -15°C to 55°C)
Case material: Fully gasketed, high-impact plastic, waterproof to IEC 529 IPX7 standards
CCU cable length: 9.5' (3 m)
NMEA 2000 power input: 9-16 V
NMEA 2000 LEN: 3 (150 mA)
Buzzer/Alarm Specifications
Dimensions (L × Diameter): 29/32" × 1.0" (23 mm × 25 mm)
Weight: 2.4 oz (68 g)
Temperature range: from 5°F to 131°F (from -15°C to 55°C)
Cable length: 10' (3.0 m)
Installation Instructions (1.76 MB)
SmartPump Installation Instructions (1.05 MB)
Reactor 40 Configuration Guide
WARNING
---
This product can expose you to chemicals which are known to the State of California to cause cancer, birth defects or other reproductive harm.
For more information go to www.p65warnings.ca.gov.
Part Numbers for Garmin Reactor 40 Hydraulic Corepack with SmartPump V2