Adler Barbour VD-150 ColdMachine Evaporating Unit - 755500000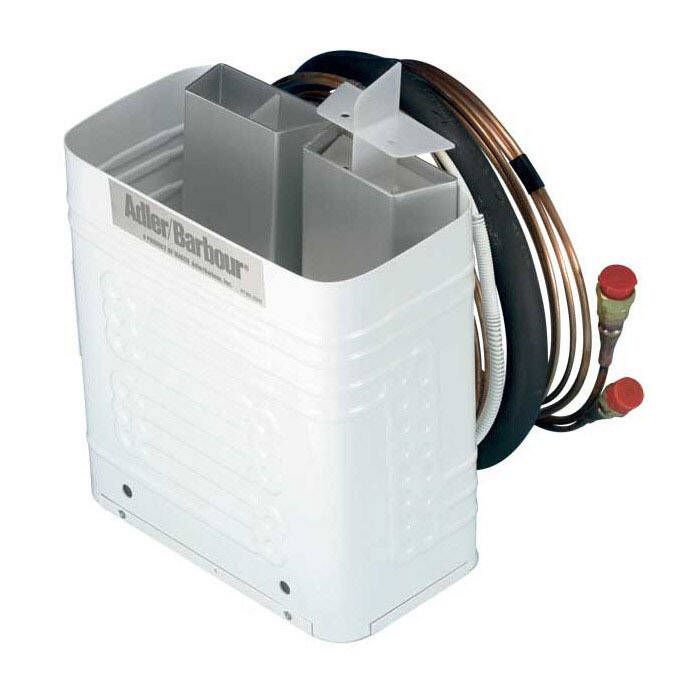 Adler Barbour VD-150 ColdMachine Evaporating Unit - 755500000
Item # 859719
Description
Adler/Barbour's VD-150 ColdMachine Evaporating Unit is specially designed to survive the rigors of the harsh marine environment, and to provide exceptional performance in hot and humid conditions, erratic or low voltage, and continuous use.
Features:
Powered by a SeCOP BD50F compressor. SeCOP BD50F compressor provides 25% more cooling performance
Easy-to-install units
Oversized air condensers
Provide up to 15 cu. ft. (424 L) of refrigeration and work with a variety of 100-Series evaporators
Optimal performance in warmer waters
Stainless-steel construction
Shrouded forced-air condensers
High CFM fan
Modular phone-jack connection for thermostat
Built-in troubleshooting diagnostics
Environmentally safe R-134A refrigerant
Pre-charged and ready to install
Self-sealing quick-connect fittings for easy attachment

Unlike the old "one-shot" connections, quick-connect fittings can be disconnected and reconnected whenever necessary without loss of refrigerant or exposing the system to air or moisture
Dometic also offers Quick-Connect Adapters (755570000 Sold Separately) which join "oneshot" units to their quick-connect counterparts (Quick-Connect Adapters Require Professional Installation)
CoolMatic ColdMachine VD-150 Evaporating Unit Specifications:
Refrigeration capacity: 9.0 cu. ft. (254 L)
Application: Medium-sized refrigerator to small freezer
Includes (2) Vertical ice trays
Configuration: Closed evaporator
Horizontal or Vertical installation
Power: N/A
Amp draw: N/A
Dimensions: 10.5" W x 11" D x 6.0" H (266 x 279 x 152 mm)
CoolMatic ColdMachine Series Compatible Cooling/Condensing Units:
Adler/Barbour SuperColdMachine CU-200

Air Cooled Fan-Air/Water Cooled
Maximum Volume: 15 cu. ft.
Applications: Tropical Water Boating

Adler/Barbour ColdMachine CU-100

Air Cooled Fan-Air Cooled
Maximum Volume: 15 cu. ft.
Applications: General Boating
Note: Ice cube trays are NOT included.
Part Numbers for Adler Barbour VD-150 ColdMachine Evaporating Unit - 755500000