Zipwake Dynamic Trim-Control Complete System Kit
$2,402.40 - $3,212.00
$1,921.91 - $2,569.59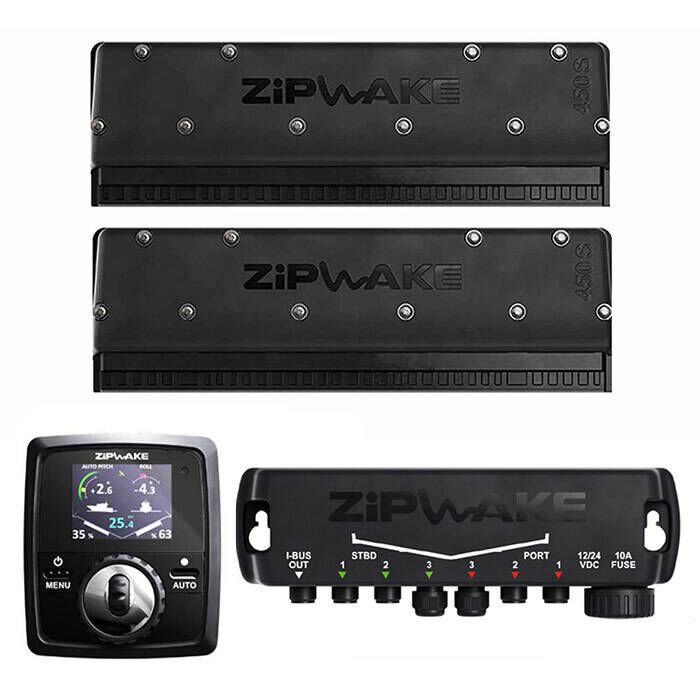 Zipwake Dynamic Trim-Control Complete System Kit
Item # 889153
Description
Zipwake Series S, the world's first inexpensive dynamic trim-control system, incorporates a state-of-the-art family of durable, fast-acting interceptors. The system is fully automatic, and is designed to significantly enhance performance, fuel economy, comfort and safety when accelerating, turning or running in a seaway.
A Kit Box includes all parts needed to install a Dynamic Trim Control System with one pair of fast-acting interceptors, or blades. Choose from four different Kit Boxes with straight interceptors - one for each interceptor length - and two different Kit Boxes with chine interceptors. The Zipwake Dynamic Trim Control System comes complete with everything you need, including all necessary parts and software for active motion control.
Any base installation can be expanded with up to two extra pairs of Series S interceptors, thus allowing a total of six interceptors without any need for additional connectors or power supply.
All components have been meticulously engineered to withstand impact and avoid water ingress, minimizing the risk of costly maintenance and downtime. Interceptor, or blade, actuation takes place by way of a calibration-free submersible electric servo within the interceptor unit. Its natural water cooling provides excellent working conditions for the brushless DC servo motor, which runs on 12-32V. The blade stroke takes 1.5 seconds, outperforming conventional trim tabs by at least a factor of 5.
Installation is made easy with an integral mounting plate and the option of a concealed or above-waterline, self-sealing, thru-hull cable fitting. The preferred mounting option is achieved by simply routing the servo cable differently. Each interceptor comes with the thru-hull cable fitting, cable covers and a practical drill template.
Zipwake advises putting the interceptors as far outboard as possible, as this is where they are most effective for roll control.
Recommendation: When choosing which interceptors to use, it is recommended to combine units to span as much of the beam as possible for the best operating results. With Zipwake's precision controlled interceptors it is not possible to span too much of the beam.
Features:
Dynamically eliminates uncomfortable and dangerous boat pitch and roll
Automatically minimizes wave resistance and saves fuel
Built-in quality, simplicity and easy expansion, yet still affordable
Supports system integration with external devices via NMEA 2000 NETWORK
See detailed sizing and Z-Factor information here
Click Here for a Short Form for Calculating Interceptor Sizing
Click Here for an Owner's Manual for this Product
Click Here for an Installation Guide for this Product (2.57 MB)
Part Numbers for Zipwake Dynamic Trim-Control Complete System Kit