This product has been discontinued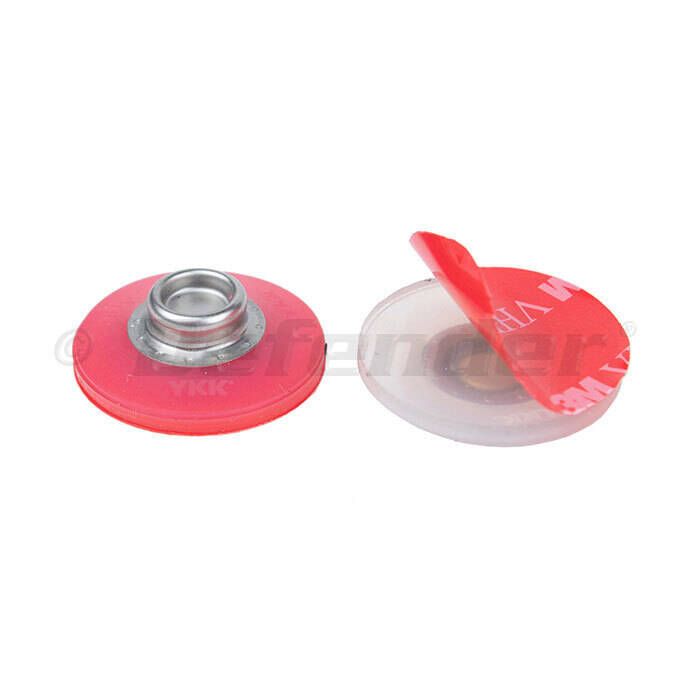 YKK SNAD Snap Adhesive Backed Flexible Base Button Stud - TP9-0000-TV0-CLEAR
Item # 889131
Description
Easily and quickly add or repair existing snap studs with the YKK® SNAD® Clear 25mm Adhesive Backed Button Stud. Great for use in canvas cover applications, securing cockpit carpeting or adding gear bags. The adhesive backing allows for a secure marine attachment without damaging your vessel's surface. No tools, no wait, no splits, no hole!
Tested by marine canvas professionals as a high-performing alternative to metal button studs, the SNAD studs attach to surfaces with adhesive rather than screws. The flexible silicone body makes this button stud the perfect choice when needing to install a fastener on a curved or uneven surface.
The SNAD stud secures to boat surfaces with a pad of 3M™ VHB™ acrylic, conformable, adhesive tape (located on the underside of the silicone body) that enables the snap to adhere to boat surfaces without having to drill a hole. For more than 20 years the VHB™ product line has proven to be tough in marine, automotive, medical, aerospace, and architectural applications. YKK has adapted the VHB adhesive with its patented design to bring flexibility and convenience to the marine industry.
The YKK SNAD Button Stud can be used wherever a conventional screw stud might be used. For example, use adhesive-backed fasteners to secure marine carpeting, cushions, seating, canvas coverings, console covers and cockpit enclosures. You can also use SNADs to replace existing screw studs.
Surface Preparation:

Snap components will adhere to most clean, dry and well-unified surfaces. Typical surface cleaning solvents are a 50/50 mix of isopropyl alcohol (rubbing alcohol) and water. Let air-dry or wipe dry with a soft, lint-free cloth before applying fastener.
Ideal tape application temperature range is 70° F to 100° F (21° C to 38° C)

Flexible SNADs & 3M Primer 94:

3M Primer 94 (sold separately) has been used for better adhesion of flexible SNADs on rigid inflatable boats made of Hypalon
Will provide attachment strength in applications using stainless steel tubing or rail less than 2" diameter to prevent flexible silicone SNAD body from "uncurling" off surface
Features:
Provides secure attachment without damaging surface
Works with existing snaps
Misplacements easily corrected
Documented performance adhesive for marine use
Conforms to marine nonslip deck patterns
Can withstand being walked and sat upon
Prevents discoloring or cracking of vessel surfaces
Ensures consistent snap action over repeated use
Replaces existing button studs
Expands applications for RIB's and thin-wall construction
Specifications:
Material: Automotive grade POM with UV inhibitor
Adhesive: VHB 4941 conformable 45 mils (1.1 mm) 3/64" Gray
Snap size: Compatible with all Ligne 24 snaps, the most common fastener in marine applications
Compatible with: Style 2 snaps meeting mil-spec 10884 for military contracts
Number required per pound of load: 3-4 SNADs
Made in U.S.A
Part Numbers for YKK SNAD Snap Adhesive Backed Flexible Base Button Stud - TP9-0000-TV0-CLEAR