Yandina Trollbridge36 Battery Combiner - TB36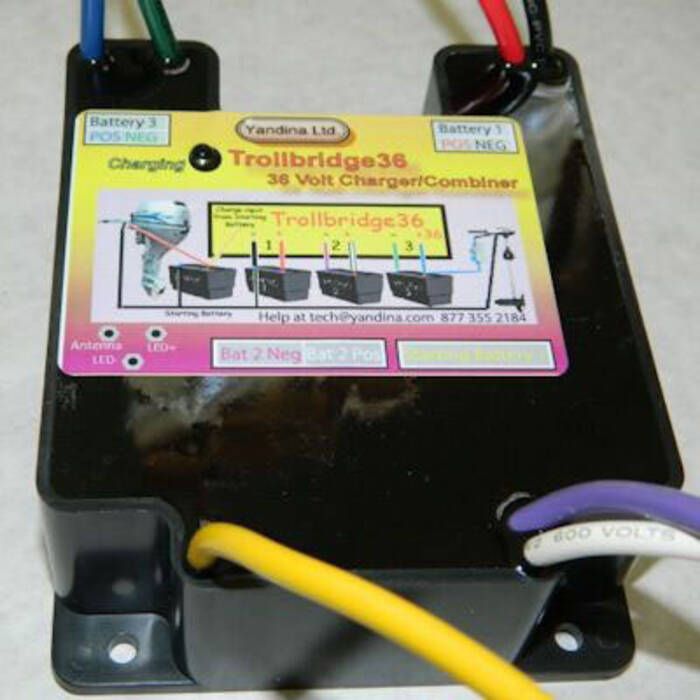 Yandina Trollbridge36 Battery Combiner - TB36
Item # 889109
Description
The Yandina Trollbridge36® Combiner allows you to charge your 36V trolling motor battery from the 12V alternator on your main engine or a trailer hook-up. It works by automatically putting (3) 12V batteries in series when you need to run the trolling motor and in parallel for charging.
Features:
Fully automatic, no switches or connectors to change
Compatible with (3) or (4) battery systems
In a 3 battery system, the bottom battery can be used as a house and/or starting battery
A single output 12V charger will charge all batteries
Can be conveniently located with the batteries
Can be used on alternators with internal or external regulators
LED indicates when the trolling batteries are charging
Connection provided for optional remote LED
Charging is done at 12V so your motor never sees charging voltages
100% efficient when trolling for longer run times
97% efficient when charging - faster charge and no wasted power with no heat sink or cooling fan required
Waterproof - rated IP68 protected from long term immersion
Ignition rated for explosive atmospheres
No voltage drop so batteries reach full charge
No modification to alternator or 12V engine wiring
Simple 6 wire connection to three batteries and a charging input line
Comes with all cables for basic hookup
Uses no current when not charging - no on/off switch needed
Uses only 1/2 amp when charging
No diodes to burn out if accidentally shorted
Withstands high ambient temperature for engine compartment mounting
Remote radio link push button to enable running both motors at the same time
Works automatically with 97% of trolling motors and manually with 100%
Specifications:
Model No. TB36
Voltage: 12V DC
Rated for 12V alternators up to 100 Amps
Rated for 36V trolling motors up to 85 Amps
Waterproof: IP68
Max Operating Temperature: 175° F (80° C)
Dimensions (L x W x H): 4" x 5" x 2"
Part Numbers for Yandina Trollbridge36 Battery Combiner - TB36