Yandina Trollbridge24 Battery Combiner - TB24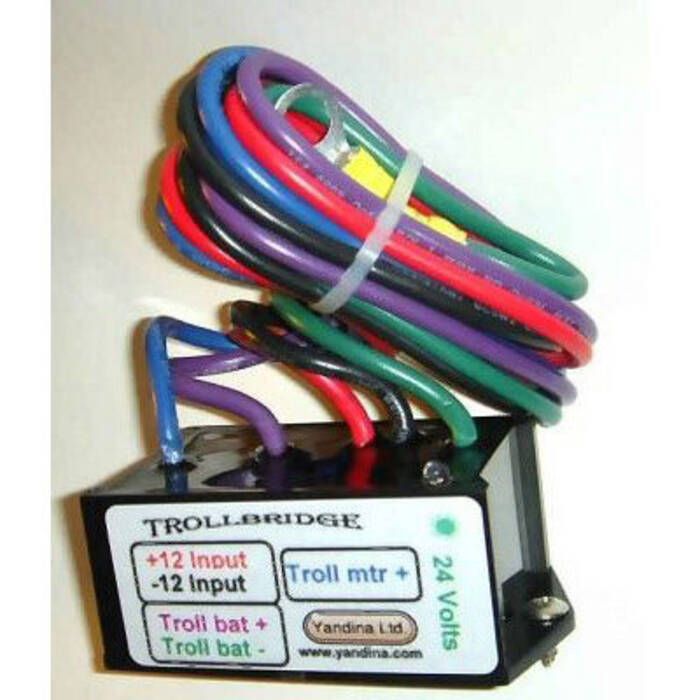 Yandina Trollbridge24 Battery Combiner - TB24
Item # 889108
Description
The Yandina Trollbridge24® Combiner allows you to charge your 24V trolling motor battery from the 12V alternator on your main engine or a trailer hook-up. It works by automatically putting (2) 12V batteries in series when you need to run the trolling motor and in parallel for charging.
Features:
Fully automatic, no switches or connectors to change
Both batteries operate in parallel when not trolling
The bottom battery can be used as a house or starting battery even when trolling
The two trolling batteries do not have to be matched or balanced
LITHIUM COMPATIBLE with matched Lithium batteries
A single output 12V charger will charge all batteries
Works with minimal 2 battery systems or in conjunction with a house battery
Can be conveniently located with the batteries
Green LED indicates 24V output active
Charging is done at 12V so your motor never sees charging voltages
Over 99% efficient - faster charge with no heat sink or cooling required
Waterproof - IP68 protected from long term immersion
Ignition rated for explosive atmospheres
No voltage drop so batteries reach full charge
No modification to alternator or 12V engine wiring
Simple 5 wire basic installation
Comes with all cables for basic hookup
Draws no current when off - no on/off switch needed
No diodes to burn out if accidentally shorted
Withstands high ambient temperature for engine compartment mounting
Works automatically with 97% of trolling motors and manually with 100%
Specifications:
Model No. TB24
Voltage: 12V DC
Rated for 12V alternators up to 150 Amps
Rated for 24V trolling motors up to 85 Amps
Waterproof: IP68
Max Operating Temperature: 175° F (80° C)
Dimensions (L x W x H): 4" x 2" x 1.5"
Part Numbers for Yandina Trollbridge24 Battery Combiner - TB24