Yandina Combiner 200A Battery Combiner - C200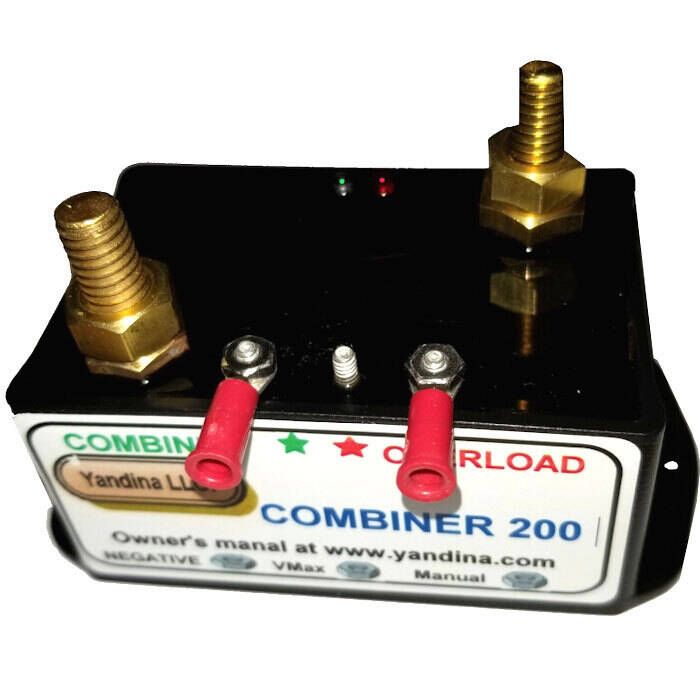 Yandina Combiner 200A Battery Combiner - C200
Item # 889105
Description
The two battery Yandina Combiner 200 battery combiner is a voltage-sensing relay (13.3V) which connects two batteries together when either is receiving a charge. When the charging stops the relay opens allowing each battery operates independently. You never have to worry about switching to "BOTH" when your engine is running and forgetting to switch back to save your starting battery from discharge when you stop.
Features:
175A continuous rating, 400A closing current (2 seconds), 200A for 5 minutes
Suitable for alternators up to 200A, up to 18V (smaller charging sources may be able to use Combiner 100)
Waterproof, rated IP68 protected from long-term immersion
UNLIMITED WARRANTY, no time limit, no proof of purchase, even covers lightning damage
No voltage drop; batteries reach full charge
Electronic thermal monitoring with shutdown if overloaded; auto restart
Minimal wasted power, no heat sink or cooling required
Can be used on alternators with internal regulators
No special wiring for alternators with external sense
Simple, basic installation, two battery wires and ground
Green LED indicates when combined
Red LED indicates thermal overload shutdown
Draws no current when batteries are not being charged
Draws less than 250 milliamps from alternator when charging
Optional external remote control for Off, Automatic, On (sold separately)

Remote "ON" can be used to parallel banks for assisted engine starting

Withstands ambient temperature to over 175°F for exposed or engine compartment mounting
No diodes to burn out if accidentally shorted
Voltage regulator feature to limit voltage to safe level for sealed AGM type batteries
Specifications:
Model No. C200
Voltage: 12V DC
Amperage:

75A (continuous)
400A closing current (2 seconds)
100A for 5 minutes

Waterproof Rating: IP68
Part Numbers for Yandina Combiner 200A Battery Combiner - C200
Questions
I have one of these Yandina 200.  I have a 140 amp alternator. Sometimes the combiner will shut down on overload(red light).  Then I have to disconnect both positives to reset it. Is it defective or is that the way it's made. 
Sounds like defective, call tech support they are helpful!
Date published: 2023-09-24