Yamaha 9.9 HP Tiller Outboard Motor - T9.9 High Thrust - 2023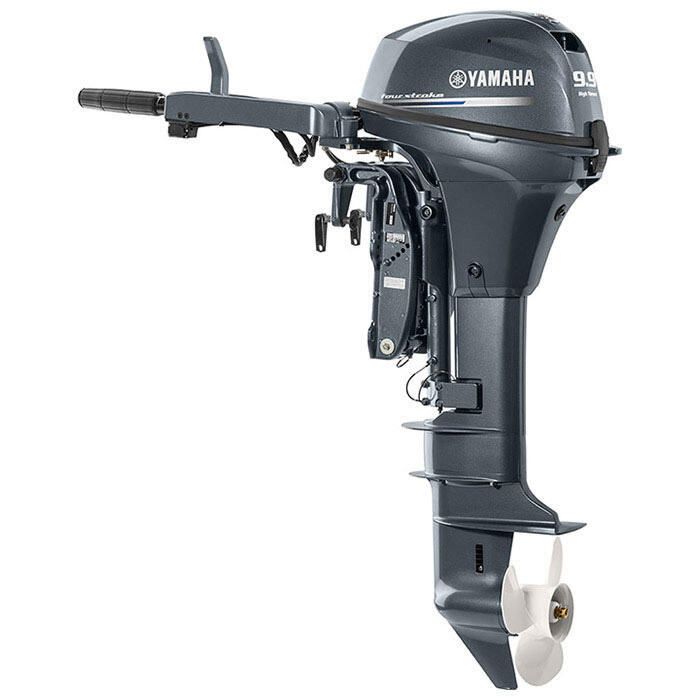 Yamaha 9.9 HP Tiller Outboard Motor - T9.9 High Thrust - 2023
Item # 951588
Description
The T9.9 has been completely reworked and designed into the smallest four stroke in this class. It has all the features found in the F9.9 plus the additional benefits of Yamaha's exclusive high-thrust drive system, making the T9.9 the ideal choice for kicker, pontoon or any application where lightweight torque is required in both forward and reverse.
Features:
An added resting pad means more storage options and improved storage stability, while the redesigned tiller handle allows the stored motor to take up less space.
Yamaha's unique dual-thrust propellers are designed to redirect the exhaust flow away, thereby reducing cavitation. This feature provides up to 60% more thrust in reverse.
The T9.9 is among the quietest engines in its class thanks in part to a single-latch sealed cowling, labyrinth exhaust and a water-sealed exhaust tube which provide excellent sound dampening. A long-span mounting system with large rubber engine mounts helps reduce vibration and noise.
Yamaha's unique YDC-30 aluminium alloy protects the engine's exterior parts, while a zinc coating, high-quality stainless steel and 5-stage exterior coating offers long-lasting protection inside and out.
Factory Warranty: 3 years, begins on date of purchase
Specifications:
Engine Type: 2-cylinder Four Stroke
Displacement: 212 cc
Bore & Stroke: 56 x 43 mm (2.48" x2.29")
Rpm Range: 5000 - 6000
Compression Ratio: 9.46:1
Induction System: SOHC
Alternator Output: 12V/6A
Fuel Delivery: Carburetor (1)
Starting: Manual and/or electric
Ignition: CDI Micro-Computer
Lubrication: Wet sump
Exhaust: Through Prop / Water Cooled / Labyrinth
Cooling: Water/Thermostatic Control
Gear Shift: Tiller Mount F/N/R
Gear Ratio: 13/38 (2.92)
Recommended Fuel: Regular Unleaded (Minimum Pump Octane 87)
Recommended Oil: Yamalube 4M FC-W 10W30 or 20W40
Oil Capacity: 0.8L (0 .85 qt)
Shaft Length: 20" or 25"
Dry Weight: 42 kg (93 lbs)
Standard Propeller: 3-Blade Aluminum High Thrust (11 3/4" x 7")
Fuel Line Included
Note: Factory warranty begins on date of purchase.
Note: External fuel tank not included.
Part Numbers for Yamaha 9.9 HP Tiller Outboard Motor - T9.9 High Thrust - 2023