Yamaha 9.9 HP Tiller Outboard Motor - F9.9 - 2023
$2,990.00 - $3,010.00
$2,709.00 - $2,739.00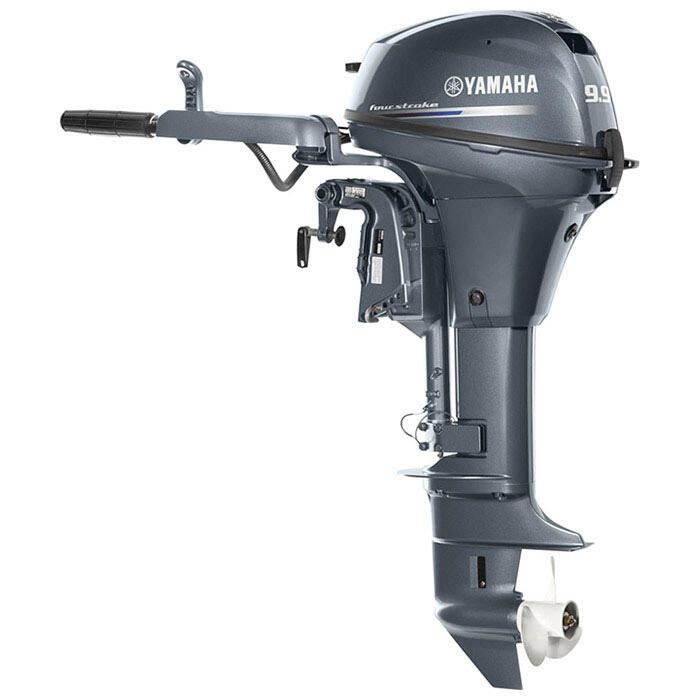 Yamaha 9.9 HP Tiller Outboard Motor - F9.9 - 2023
Item # 951587
Description
Yamaha took the popular F9.9 and completely redesigned it to offer even greater efficiency and enhanced features, all built into a smaller and lighter unit. In fact, the F9.9 is nearly identical to the previous 9.9 two-stroke in size. This helps makes it the ideal lightweight outboard companion, promising the legendary Yamaha reliability over a million boaters have come to depend upon.
Features:
An added resting pad means more storage options and improved storage stability, while the redesigned tiller handle allows the stored motor to take up less space.
The shortened tiller handle is now easier to use than ever before. Its new shift level shape provides better grip for precise shifting.
Thanks to advanced Yamaha four-stroke engine technology the F9.9 boasts outstanding fuel economy - substantially better than 2-stroke 9.9-hp models.
Convenient front-mounted controls facilitate smooth shifting, easy, shallow water drive and single action steering friction adjustment.
Yamaha's unique YDC-30 aluminium alloy protects the engine's exterior parts, while a zinc coating, high-quality stainless steel and 5-stage exterior coating offers long-lasting protection inside and out.
Specifications:
Engine Type: 2 cylinder
Displacement: 212cc
Bore & Stroke: 56 x43 mm (2.2 x 1.69")
Rpm Range: 5000-6000
Compression Ratio: 9.46:1
Induction System: SOHC
Alternator Output: 12V/6A
Fuel Delivery: Carburetor (1)
Ignition: CDI Micro-Computer
Lubrication: Wet sump
Degree Of Trim/Tilt: 4 positions/70°
Exhaust: Through Prop / Water Cooled Lab
Cooling: Water/Thermostatic Control
Gear Shift: Tiller Mount F/N/R
Gear Ratio: 13/27 (2.08)
Recommended Fuel: Regular Unleaded (Minimum Pump Octane 87)
Recommended Oil: Yamalube 4-M FC-W 10W-30 or 20W-40
Oil Capacity: 0.8L (.85 qt)
Shaft Length: 15" or 20"
Dry Weight: 39 kg (87 lbs)
Part Numbers for Yamaha 9.9 HP Tiller Outboard Motor - F9.9 - 2023