Yamaha 15 HP Tiller Outboard Motor - F15 - 2023
$3,020.00 - $4,230.00
$3,020.00 - $4,018.00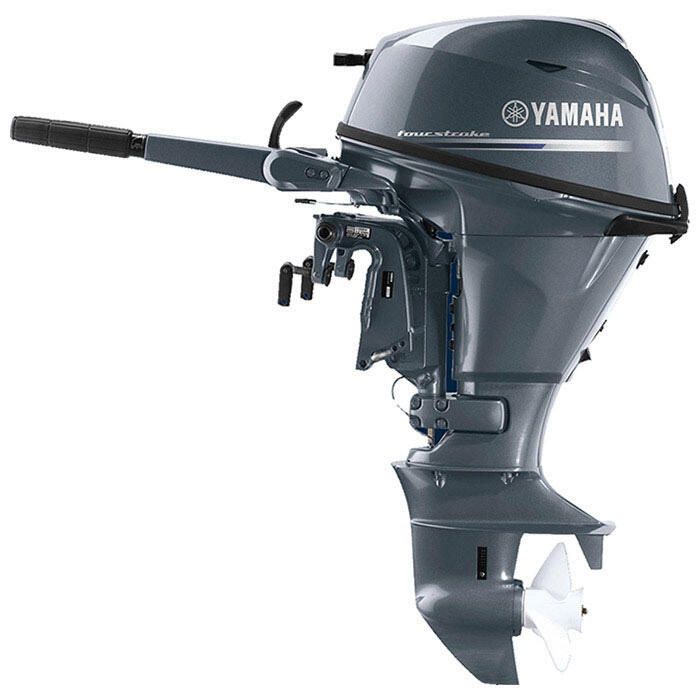 Yamaha 15 HP Tiller Outboard Motor - F15 - 2023
Item # 951589
Description
The F15 features all the benefits of a reliable Yamaha 4-stroke outboard in a compact, lightweight and portable package that rivals any 2-stroke. If you are looking for the ultimate in reliable, compact and efficient portable power for your boat, the F15 will deliver you many years of hassle-free performance.
Features:
The powerful, new twin-cylinder SOHC design boasts the largest displacement in its class
Maintenance is a breeze with easily accessible oil and fuel system components
Convenient front-mounted controls facilitate smooth shifting, easy, shallow water drive and single action steering friction adjustment
The carrying handle and brims are designed for easier carrying, mounting, and removing the outboard motor
Yamaha's unique YDC-30 aluminium alloy protects the engine's exterior parts, while a zinc coating, high-quality stainless steel and 5-stage exterior coating offers long-lasting protection inside and out
Specifications:
Engine Type: Four Stroke, SOCH In-Line 2 cylinders
Displacement: 362 cc
Bore & Stroke: 63 x 58.1 mm (2.48" x2.29")
Rpm Range: 5000-6000
Compression Ratio: 9.3
Induction System: SOHC
Alternator Output: 12V/10A (6.5Amp @ 1000rpm)
Fuel Delivery: Carburetor (1)
Starting: rope or electric
Ignition: CDI Mircocomputer
Lubrication: Wet sump
Degree Of Trim/Tilt: 4 positions/71°
Exhaust: Through Propeller Hub
Cooling: Water/Thermostatic Control
Gear Shift: F/N/R
Gear Ratio: 13/27 (2.08)
Recommended Fuel: Regular Unleaded
Recommended Oil: Yamalube 4-M FC-W 10W-30 or 20W-40
Oil Capacity: 1.6L (1.7 qt)
Shaft Length: 15" or 20"
Dry Weight: 50 kg (111 lbs)
Tilt system: manual or power tilt
Standard Propeller: 3-Blade Aluminum Cupped (9 1/4" x 10")
Fuel Line Included
Factory Warranty: 3 years. Warranty Begins on Date of Purchase.
Note: External fuel tank not included.
Part Numbers for Yamaha 15 HP Tiller Outboard Motor - F15 - 2023