Xantrex MPPT Charge Controller - 710-3024-01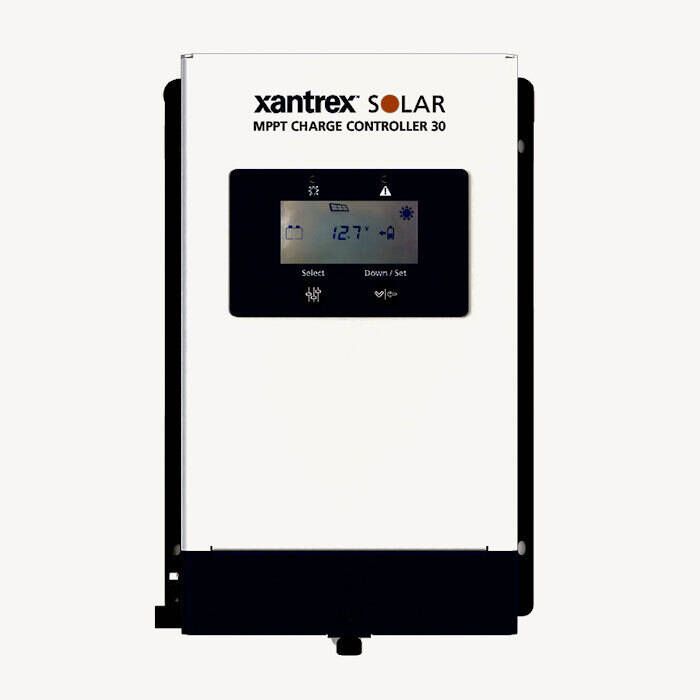 Xantrex MPPT Charge Controller - 710-3024-01
Item # 888968
Description
The Xantrex MPPT Charge Controller is designed to charge lithium ion batteries including LIFePO4. The 30 A MPPT (Maximum Power Point Tracking) charge controller features an industry leading 98% charging efficiency and dual bank output to charge and maintain house and starter batteries.
Features:
Advanced multi-stage charging technology (bulk, absorption, float, equalization), for optimal battery charging
Intuitive and easy-to-program
MPPT charging algorithm with 99.5% efficiency
DC/DC conversion with 98% efficiency
Dual battery-bank charging ports, no need for trickle chargers
Built-in LCD display PV array (volts, amps, watts, watt-hours)
Start & house batteries (volts, temperature)
House battery types supported: Sealed (AGM), gel, flooded, lithium iron phosphate (LiFePO4)
Best-in-class PV array and battery protections
Naturally-cooled by convection
Wide operating temperature range
Optional remote lead-acid battery temperature sensor and panel (sold separately)
Specifications:
Charge Controller: 30A
Nominal system voltage: 12/24V Auto-detect
Rated charge current: Battery 1: 30A, battery 2: 1A
Battery voltage range: 8 to 32V
Max. PV open circuit voltage: 100V
MPP voltage range: (Battery voltage + 2V) up to 72V
Max. PV input power: 12V: 580W, 24V: 1170W
Rated charge power:12V: 390W, 24V: 780W
Battery types supported:

Battery 1 (house): Lead-acid battery (sealed (AGM) / gel / flooded), lithium iron phosphate (LiFePO4)
Battery 2 (starter): Lead-acid battery (sealed (AGM) / gel / flooded)
Note: Battery 1 and battery 2 can be different battery chemistries, but must be the same nominal voltage (12 or 24V)

Self-consumption: 12V: 17mA, 24V: 10mA
Temperature compensation coefficient: -3mV/°C/2V
Grounding: Common negative
Storage temperature range: -20°C to 70°C
Operating temperature range: -25°C to 45°C (fully-rated output)
Relative humidity: 95%, N.C
Enclosure protection: IP33
Dimensions: 5.91" W X 9.92" H X 2.64" D (165.0mm W X 251.9 mm H x 67.0 mm D)
Net weight: 2.9 lbs (1.3 kg)
Max. cable size: (PV array and battery 1) 0.63in² (16mm²) / 6 AWG
Recommended cable size: (PV array and battery 1) 0.24 in² (6mm²) / 10 AWG or higher
Max. cable size: (Battery 2) 0.16 in² (4mm²) / 12 AWG
Recommended cable size: (Battery 2) 0.04 in² (1mm²) / 18 AWG or higher
WARNING
---
This product can expose you to chemicals which are known to the State of California to cause cancer, birth defects or other reproductive harm.
For more information go to www.p65warnings.ca.gov.
Part Numbers for Xantrex MPPT Charge Controller - 710-3024-01