Woody Wax Kit - WWKIT 16OZ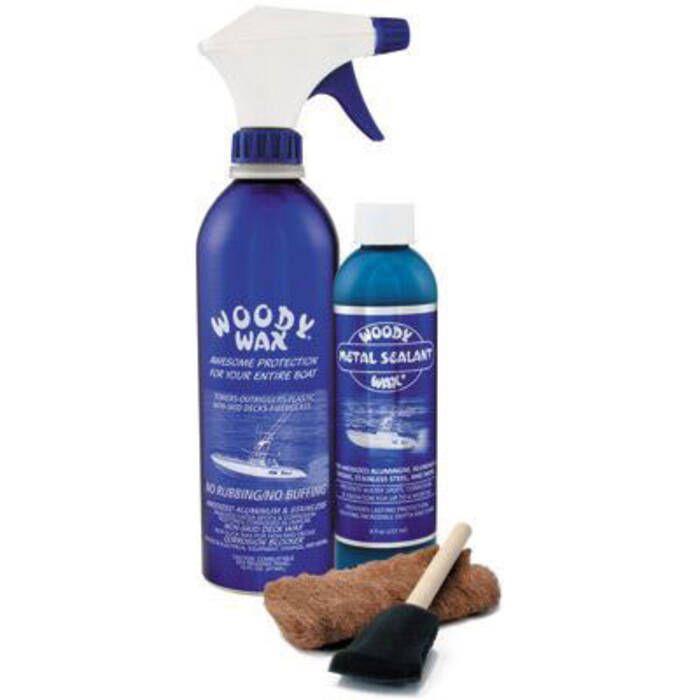 Woody Wax Kit - WWKIT 16OZ
Item # 888869
Description
The Woody Wax Kit includes everything you need to restore and protect your T-tops, Towers, Outriggers, Anodized Aluminum, Aluminum, Stainless and Chrome from corrosion, salt water, sun light, oxidation and pollution for 6 months!
Features:
Treat and Restore: Simply wipe Woody Wax on with a cotton glove or cloth and let it work... no rubbing or buffing required. For restoration of heavily pitted metal, leave the Woody Wax on for as long as 24 - 48 hours, and then use the fine bronze wool pad to rub away any pitting and corrosion. (This fine bronze wool will not harm anodized finishes)
Protect and Seal: The Metal Sealant will place a shell of hard wax over a strong corrosion blocking film. Use the Foam Brush to apply the sealant over the restored metals for a long-lasting 6 month protection.
Kit Includes:
16 oz. Woody Wax
8 oz. Metal Sealant
Foam Applicator Brush
Fine Bronze Wool Pad
Applications:
Anodized Aluminum, Aluminum, Stainless, & Chrome:

Woody Wax is a "wipe on – wipe off" product that disintegrates oxidation, corrosion and water spots. Simply spray Woody Wax on a clean cotton glove or cloth and apply to metal. For metal that is in good condition, allow Woody Wax to remain on for approximately 30 minutes, then simply wipe with a clean cloth or disposable blue shop towel. You will be amazed by the depth and the shine that has returned to your bright work, leaving a layer of corrosion blocking wax that is not oily or sticky and lasts for about 2 months.

Anodized Aluminum and Metals with Rough Blisters and Pits:

For metals that have heavy pitting or corrosion, it may be necessary to leave Woody Wax on overnight (it will not hurt the metals to leave on for long periods of time- it will only attack the corrosion and oxidation the longer it sits). Use a piece of fine bronze wool sprayed with Woody Wax to rub corrosion spots. Corrosion will come right off the pitted area without hurting the metals. Two or Three applications may be necessary over a month or so to fully restore pitted metals.

Outriggers, T-Tops, Towers, Railings, etc.

Use Woody Wax to treat and protect! On Outriggers it is best to leave Woody Wax on the riggers for a week before wiping it off and applying the Metal Sealant. The longer Woody Wax has to penetrate the better the metal will look when sealed.

Engines, Electronics, and Connections:

With a fine mist of Woody Wax your switches, battery terminals, antennas, fuse panels, light sockets, outboard engines, and electric motors will be corrosion-free and will look and work like the day they were new!

For 6 Month Protection using the Metal Sealant:

After you have restored your metals to the best they can be, remove the excess Woody Wax with a disposable blue shop towel or cotton towel. Apply a coat of the Metal Sealant with the sponge applicator brush. Allow the sealant to harden to a white haze. Vigorously buff while applying pressure. With the Metal Sealant, you will seal in the corrosion blockers and leave a hard, impenetrable finish. The Metal Sealant stops the deterioration caused by oxidation, corrosion, and water spots.
Part Numbers for Woody Wax Kit - WWKIT 16OZ