Wichard Tactical Large Bail Snap Shackle - 02373B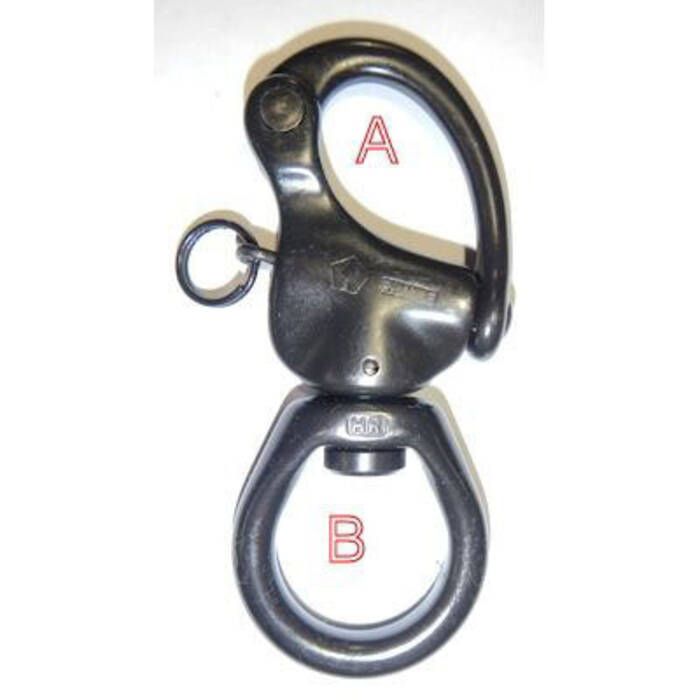 Wichard Tactical Large Bail Snap Shackle - 02373B
Item # 888644
Description
The Wichard Tactical Line is forged in HR stainless steel with a Hard Matte Black Coating.
Features:
These snap shackles are hot drop forged from a high resistance stainless steel
Only forging creates a superior product, by increasing its elasticity and internal strength
A forged snap shackle will deform long before breaking
It will not burst or break suddenly, giving the user a great guarantee for safety
Designed and made in France
Captive plunger pin
Large range
Easy opening
Multi-use: halyards, tethers etc..
Specifications:
Swivel eye
Length: 70 mm (2-3/4")
A: 16 mm (5/8")
B: 19 mm (7/16")
Working Load: 960 kg (2116 lbs)
Breaking: 2000 kg (4409 lbs)
Note: imperial dimensions are approximate, the manufacturer built this product to metric specs.
Part Numbers for Wichard Tactical Large Bail Snap Shackle - 02373B