Wichard Snap Shackle-Large Swivel Eye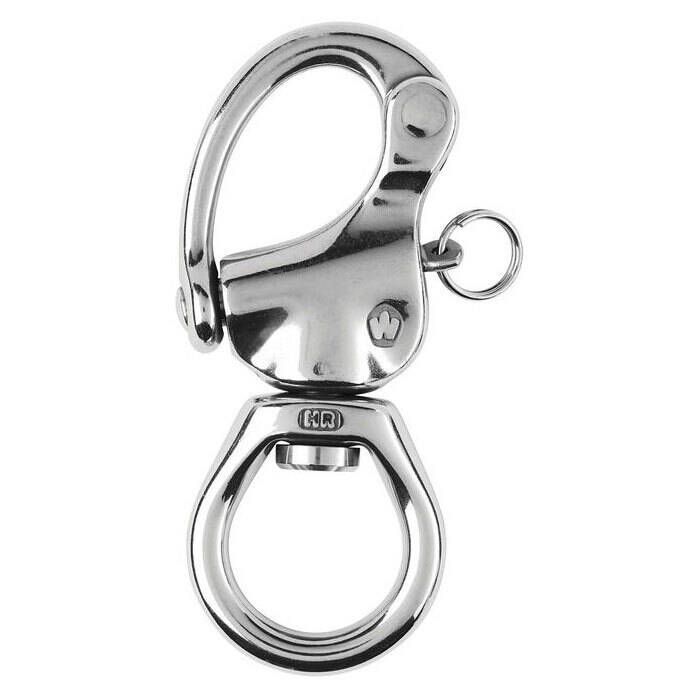 Wichard Snap Shackle-Large Swivel Eye
Item # 888780
Description
The Wichard Snap Shackle with a Large Swivel Eye is hot drop forged from a high resistance stainless steel. They are designed for applications requiring a free rotation of the snap shackle for a better sail orientation.
Features:
Free rotation of the snap shackle thanks to the swivel eye
The plunger pin is set captive into the hook and cannot become detached
Excellent working and breaking loads
Easy to open by pulling the plunger pin (possibility to attach a lanyard)
HR Forged snap shackle (Grade 17.4 ph stainless steel) with swivel eye

Only forging creates a superior product, by increasing its elasticity and internal strength
A forged snap shackle will deform long before breaking

It will not burst or break suddenly, giving the user a great guarantee for safety
Note: imperial dimensions are approximate, the manufacturer built this product to metric specs.
3 5/32" Shackle Technical Data
4 9/64" Shackle Technical Data
Part Numbers for Wichard Snap Shackle-Large Swivel Eye