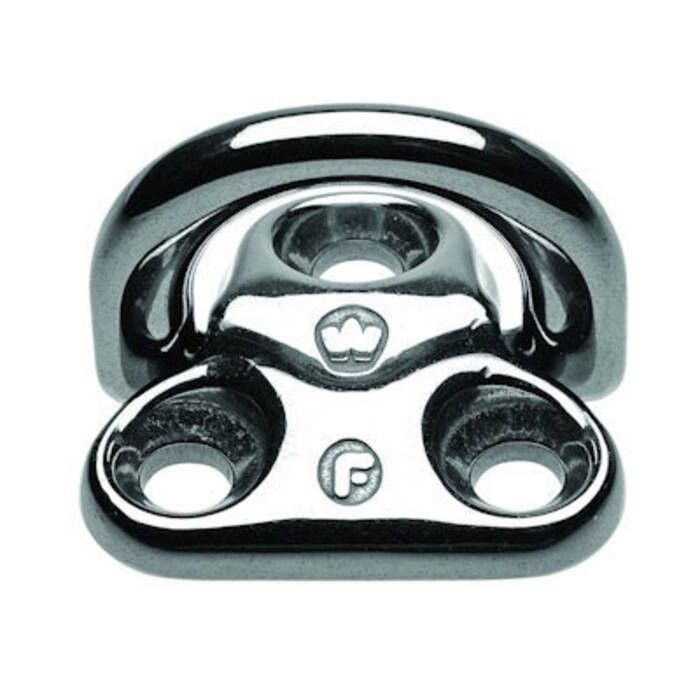 Wichard Padeye - 06605
Item # 888758
Description
The Wichard Universal Padeye provides a single attachment point with many applications including tiedowns, blocks, jackstays, etc. It indludes a silicon pad to reduce noise and vibrations.
Features:
Material:

316L Stainless Steel
Padeye Bail is Constructed of 17-4pH Stainless Steel which is a high resistance stainless, and does have magnetic properties

Outstanding working and breaking loads in all positions
Compact, can be folded
Silicon pad to reduce noise and vibrations
Multi-use: fastening, shrouds, blocks, jackstays etc
Mounting Holes: 3
Specifications:
Ø d = 8 mm
Ø D = 8 mm
A = 57 mm
B = 35 mm
C = 18 mm
D = 59 mm
E = 51 mm
F = 35 mm
Working Load: 2400 kg
Breaking Load: 5000 kg
Fasteners: 5/16"
Note: imperial dimensions are approximate, the manufacturer built this product to metric specs.
Part Numbers for Wichard Padeye - 06605