Wichard Fluorescent Offshore Rescue Knife with Fixed Serrated Blade - 10192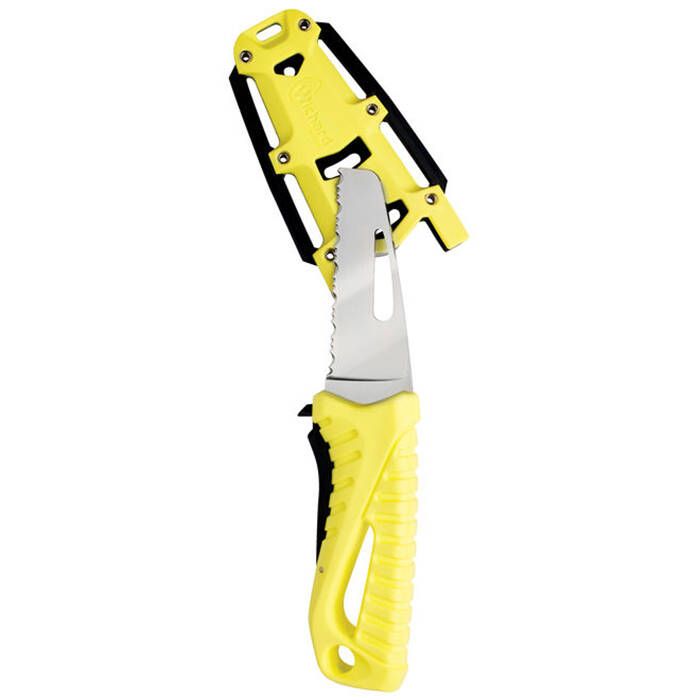 Wichard Fluorescent Offshore Rescue Knife with Fixed Serrated Blade - 10192
Item # 888717
Description
Developed specifically for rescue operations and extreme sports, the Offshore Rescue Knife offers all the essential functions needed on board a boat: portability, cutting quality, night visibility and resistance to corrosion.
Features:
Specifically developed for rescue operations and extreme sports (offshore racing, sport catamaran, white water sports, etc.)
N680 Stainless steel grade blade brings high corrosion resistance, outstanding cutting power and high robustness
Included sheath enables the knife to be positioned in all situations

Offers many fastening points on the sailor (lifejacket, arm, leg, etc.), and on various locations (cockpit, steering wheel, mast foot, trampoline, catamaran crossbeams)

72 mm (2.83") fully serrated fixed blade
Rounded tip to prevent injuries
Fluorescent (Glow in the dark) polyurethane hand grip for better handling
Shackle key
Specifications:
Blade material: N680 Stainless steel grade (59 HRC)
Blade type: Serrated
Blade length: 72 mm (2.83")
Blade thickness: 3 mm (0.12")
Handle material: Polyurethane
Total length: 190 mm (7.48") with sheath / 179 mm (7.04") without sheath
Weight : 119 gr with sheath / 86 gr without sheath
Note: imperial dimensions are approximate, the manufacturer built this product to metric specs.
Part Numbers for Wichard Fluorescent Offshore Rescue Knife with Fixed Serrated Blade - 10192