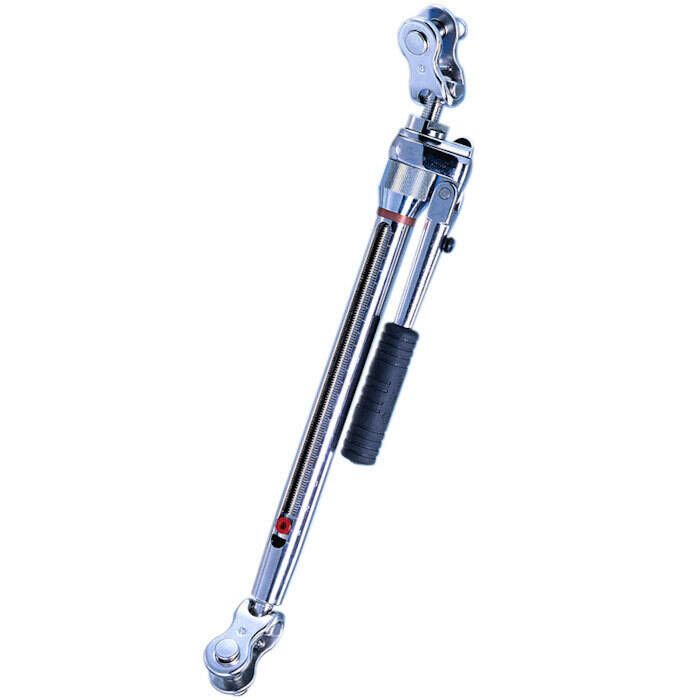 Wichard Backstay Adjusters - 05568
Item # 888688
Description
On sailboats the backstay adjuster enables the crew to precisely adjust and control the forestay tension. Control equates to optimum performance of the headsail and guarantees smooth operation of a furling system.
Features:
When not under sail, the backstay adjuster permits the release of tension on the rig, thereby helping to prolong the life of the rigging and fittings
The smaller backstay adjusters are made with a wheel system which is strong, quick and easy to use
Specifications:
Version: Ratchet adjuster
Material: Grade 316L stainless steel
Applications: 5/16" to 3/8" wire diameter:
Open: 29 3/4" (660 mm)
Closed: 19 7/8" (440 mm)
Pin diameter: 5/8" (16 mm)
Length pin to pin closed / open: 19 7/8 to 29 3/4
Toggle length x width: 11/16" x 7/8" (17 x 22 mm)
Stud diameter: 9/16" (14 mm)
Functional load: 15,400 lbs
Breaking load: 19,800 lbs
Note: imperial dimensions are approximate, the manufacturer built this product to metric specs.
Part Numbers for Wichard Backstay Adjusters - 05568