Whitecap Pushup Deck Fill
$62.43 - $67.26
$53.06 - $57.16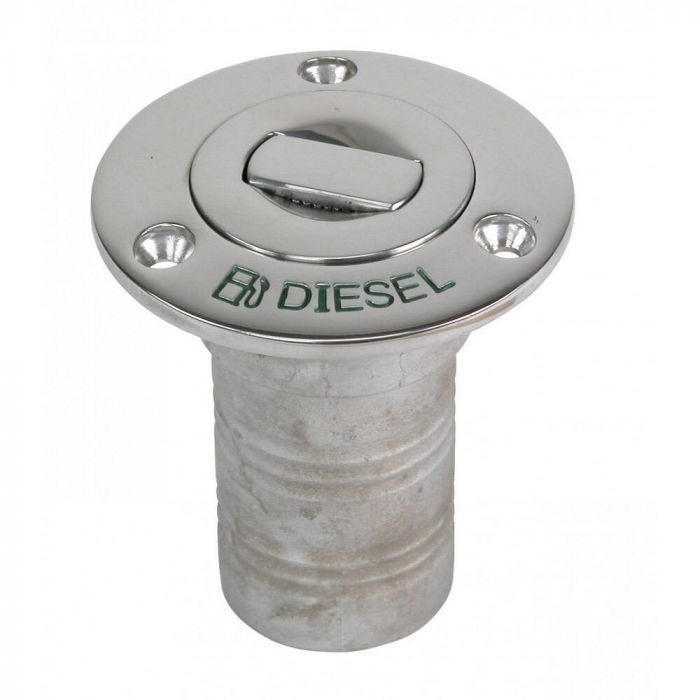 Whitecap Pushup Deck Fill
Item # 888360
Description
The Whitecap Stainless Steel Pushup Deck Fill for diesel fits 1 1/2" I.D. hose. The flange has the fill type embossed in colored letters on it to further reduce the likelihood of putting in the wrong liquid for the deck fill.
Features:
Deck fill with pushup cap
Keyless fill
Includes safety chain
Made of stainless steel
Replacement caps are available (sold separately)
Specifications:
Flange Diameter: 3 1/2"
Fill Tube O.D.: 1 1/2" or 2" (6895CBLUE and 6894CBLUE)
Hose I.D.: 1 1/2" or 2" (6895CBLUE and 6894CBLUE)
Hose Connection Angle: 90° (straight)
Cap Type: Pushup
Material: 316 Stainless steel
Fastener: #10 (3)
Embossed Lettering Color for Diesel Fill Type: Green
Embossed Lettering Color for Gasoline Fill Type: Red
Embossed Lettering Color for Waste Fill Type: Black
Embossed Lettering Color for Water Fill Type: Blue
Note: Replacement deck fill caps are not universal and are often hard to replace.
Part Numbers for Whitecap Pushup Deck Fill