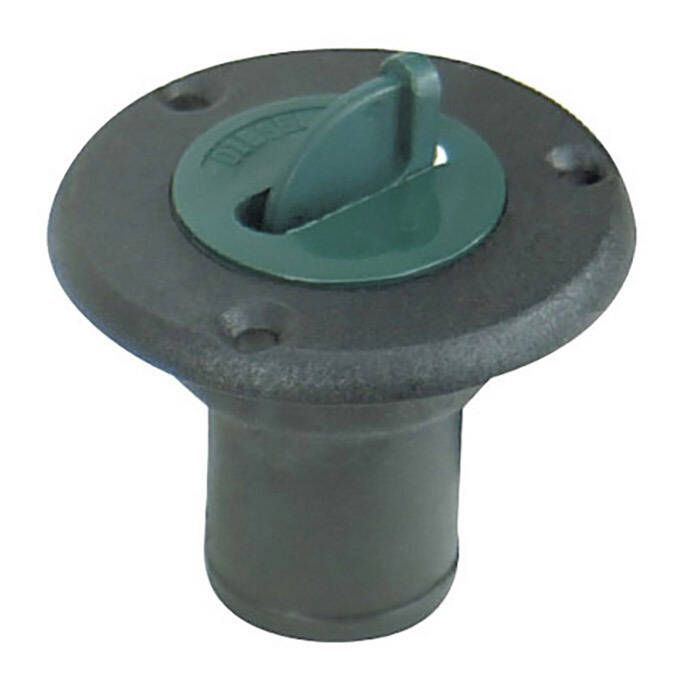 Whitecap Nylon Deck Fill
Item # 888300
Description
The Whitecap Nylon Deck Fill comes with a cap that identifies what type of fuel the deck fill is used for. The cap also has the name of the deck fill on it to further reduce the likelihood of putting in (or removing) the wrong liquid for the deck fill.
Features:
Nylon deck fill with color coded cap
Material: Nylon (non-metallic)
Replacement caps are available (sold separately)
Specifications:
Flange Diameter: 3 3/8"
Hose I.D.: 1 1/2"
Hose Connection Angle: 90°
Fastener: #10 (3)
Cap Diameter: 1 5/8"
Cap Thread: 11.5 TPI (threads per inch)
Diesel Fill Type

Cap Color: Green
Includes retainer chain

Gasoline Fill Type

Cap Color: Red
Includes retainer chain

Waste Fill Type (holding tank)

Cap Color: Black
Does not include retainer chain

Water Fill Type

Cap Color: Blue
Includes retainer chain
Note: Replacement deck fill caps are not universal and are often hard to replace.
Part Numbers for Whitecap Nylon Deck Fill