Whale Quick Connect Plumbing System Fitting - WX1574B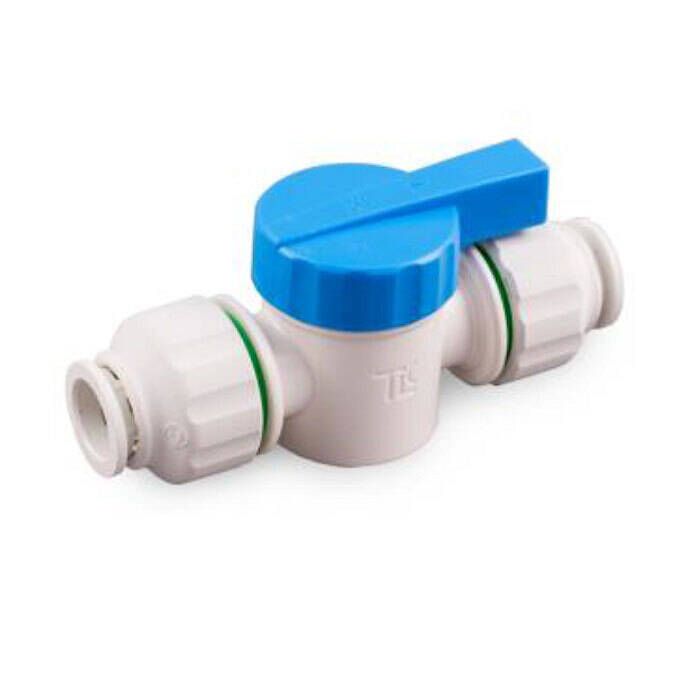 Whale Quick Connect Plumbing System Fitting - WX1574B
Item # 887938
Description
The Quick Connect System Fittings are made from Glass-filled Polypropylene and the piping is made from Polyethylene. They can be used to install additional outlets or to completely re-plumb a boat or recreational vehicle.
Whale Quick Connect fittings ensure a high integrity, reliable plumbing system solution, specifically designed for use in marine applications and most require no tools for connections. Whale Quick Connect fittings offer many benefits, all ensuring a high integrity plumbing system.
Note: It is vital that Whale Quick Connect water systems are fully winterized to prevent frost damage in cold weather climates.
General Features:
Unique "Double Gripper" provides secure lifelong tube retention even at excessive pressures

Designed for use with Whale plastic tubing and grooved stems only

Collet has internal support ring ensuring O-ring seal is held in position and does not distort or leak under pressure
The innovative, tube supporting, "cage collet" design eliminates leaks where fittings are close to tight bends
High integrity single piece molding improves the reliability and strength of fittings
Outer sleeve incorporates collet cover, thus preventing accidental tube release
No collet clips are used thus the Whale system reduces costs, speeds up installation time and ensures complete installation every time
The patented Whale® plumbing system is specifically designed to be used in "mobile" applications
Whale Quick Connect fittings and WhaleX Pipework tubing are covered for 10 years from date of purchase (Except WX1599)
They are designed for use with Whale plastic tubing and grooved stems only
General Specifications:
Fittings are made from Glass-filled Polypropylene
WhaleX Piping is made from Polyethylene

15 mm, Whalex Red Tubing:

Designed for Hot water lines
Maximum hot water pressure is 90 psi
Maximum hot water temp is 150 deg F/65 C

15 mm, Whalex Blue Tubing:

Designed for Cold water lines
Maximum cold water pressure is 180 psi
Maximum cold water temp is 68 deg F/20 C
Minimum bend radius is 2.95"

Standard Whale 15 mm Tubing is made from medium density polyethylene, and the WhaleX is made from high-density polyethylene. They both have the same temperature and pressure rating for sustained use, but we test the Whalex tubing to withstand 3x its rated pressure (2x for the standard tubing)
BSP (British Standard Pipe) Threads
The most common BSP thread has parallel sides, unlike the tapered sides of the common NPT thread. These threads are commonly found at the end of flexible connection tubes from faucets. The most commonly found size is 1/2 ", although 3/8" is also common. BSP threads seal on a washer, and do not require sealant on the threads.
WARNING
---
This product can expose you to chemicals which are known to the State of California to cause cancer, birth defects or other reproductive harm.
For more information go to www.p65warnings.ca.gov.
Part Numbers for Whale Quick Connect Plumbing System Fitting - WX1574B