West System 209 Extra Slow Hardener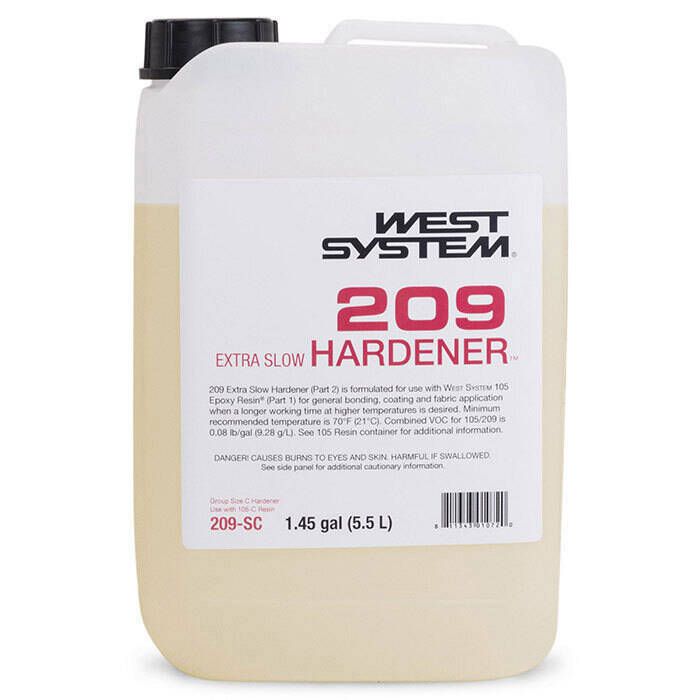 West System 209 Extra Slow Hardener
Item # 923177
Description
West System 209 Extra Slow Hardener is formulated specifically for use with West System Brand 105 Resin for general coating and bonding applications in extremely warm and/or humid conditions or when extended working time is desired at room temperature.
Features:
Provides approximately twice the working time of 206 Slow Hardener
105 / 209 mixture forms a high-strength, moisture-resistant solid with excellent bonding and barrier coating properties
Wets out and bonds to wood fiber, fiberglass, reinforcing fabrics, foam and other composite materials, and a variety of metals
105 / 209 mixture can be thickened with West System fillers to bridge gaps and fill voids and can be sanded and shaped when cured
With roller applications, has excellent thin-film characteristics, allowing it to flow out and self-level without "fish-eyeing"
Multiple coats of 105 / 209 create a superior moisture barrier and a tough, stable base for paints and varnishes
Formulated without volatile solvents
Has a relatively high flash point, no strong solvent odor and does not shrink after curing
Not intended for clear-coating natural finished wood
Handling characteristics:
Mix ratio: (3) parts resin : (1) part hardener
Pot life at 72°F (22°C): 40 to 50 minutes
Pot life at 95°F (35°C): 15 to 20 minutes
Cure to solid state at 72°F (22°C): 20 to 24 hours
Cure to solid state at 95°F (35°C): 6 to 8 hours
Cure to maximum strength: 4 to 9 days
Minimum recommended temperature for curing: 70°F (21°C)
WARNING
---
This product can expose you to chemicals which are known to the State of California to cause cancer, birth defects or other reproductive harm.
For more information go to www.p65warnings.ca.gov.
Part Numbers for West System 209 Extra Slow Hardener