Weaver Snap Davit System for Inflatable Boats - RBD100 GRAY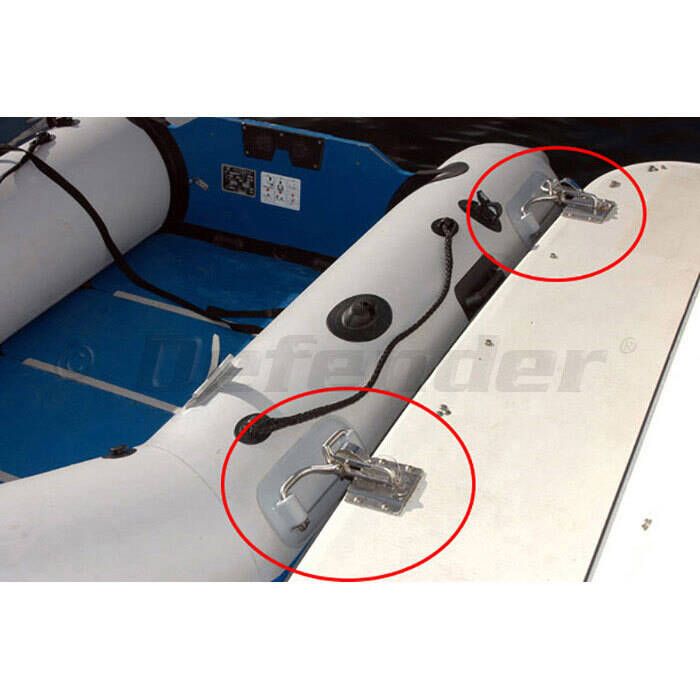 Weaver Snap Davit System for Inflatable Boats - RBD100 GRAY
Item # 887411
Description
Move safely between your boat and inflatable when you attach the Weaver Snap Davit System for Inflatable Boats to your swim platform and dinghy. No more holding lines tight and hoping for the best while you struggle with gear. Swim platform davit system keeps your inflatable locked rock-solid against your platform so the dinghy won't glide away during transfers. Great when kids and pets are aboard too. Ensure that your Inflatable boat is properly inflated when using Weaver Davit kits. Proper inflation at all times will help ensure a long service life.
This system also makes it easy for one person to pull the dinghy into the canted, upright position for stowage on the platform. Add the optional Weaver receiver plate Quick Kit for easy removal of davit heads to keep your platform uncluttered, and the Weaver Stand-Off Brackets to lock your inflatable in the canted or vertical stand-off stow position on the platform. All Weaver products come with a lifetime warranty.
Features:
Attaches your soft-bottomed inflatable dinghy firmly to swim platform
Suitable for inflatables up to 150 lbs
RS110 snap davit heads mount on rear edge of swim platform
Davit heads attach to stainless steel yokes on dinghy pads to provide a secure connection for stepping in and out of dinghy
Attach the dinghy pads with glue (sold separately — select Hypalon or PVC compatible glue)
Recommended for use with Weaver Stand-Off Brackets to stow the dinghy securely, in stand-off position on swim platform while underway
Allows one person to lift and secure inflatable on platform for stowing when underway
Made in USA
Lifetime Warranty
Kit includes:

2 RS110 snap davit heads
2 Oblong rubber dinghy pads
2 Stainless steel yokes
Mounting hardware
Note: Inflatables weighing 150 lbs or more should use the RBD100/ARC system. This system requires a worksheet with additional boat-specific information and is normally special ordered.
Note: Optional Weaver Quick Kit (Defender item #450492) receiver plates let you detach davit heads, leaving only a low-profile receiver plate on your platform to avoid bulky hardware when davit system is not in use.
Note: Optional Weaver Stand-Off Brackets (various fixed and adjustable lengths) let you lock the dinghy in place vertically on platform for stowage while underway.
Note: Optional Weaver Leaver Outboard Motor Bracket for Dinghy Transoms (Defender item #453277) keeps motor in upright position when dinghy is stored vertically on platform.
Part Numbers for Weaver Snap Davit System for Inflatable Boats - RBD100 GRAY