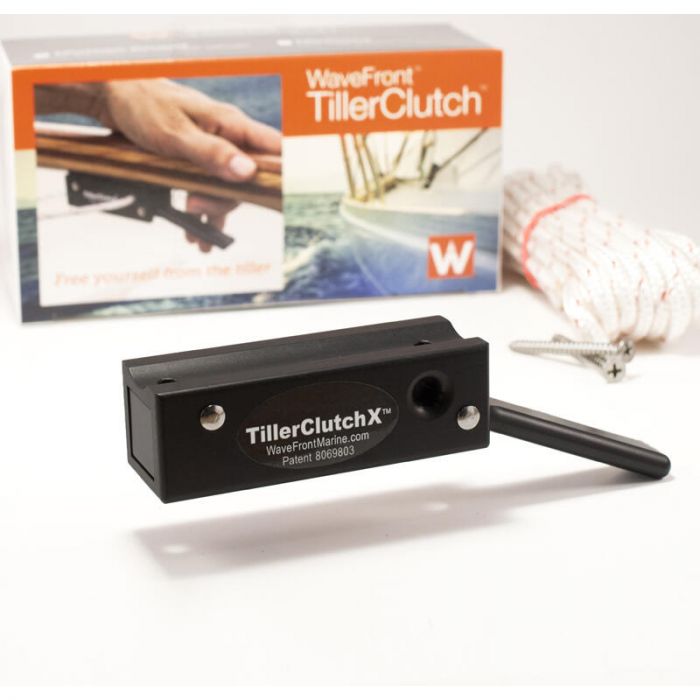 WaveFront TillerClutch Kit
Item # 923436
Description
The standard TillerClutch is intended for lighter or well-balanced tiller-steered sailboats that typically sail in fair to moderate conditions or sheltered waters. It is recommended for all but the lightest trailer-size sailboats and day sailors generally up to 24 (7 m) or so. The steering effort you feel in the tiller is usually under 15 lbs (7 kg), about the weight of a bowling ball.
The TillerClutchX is the same physical size, but it provides extra holding power for heavier boats, such as keel boats, stout trailer boats about 25 (7 m) and up, traditional cat boats and blue water boats of all sizes. These boats can generate greater steering effort, often above 15 lbs (7 kg), and they tend to sail in more varied conditions. Some smaller, stout-built boats with heavy weather helm can also benefit from the TillerClutchX.
Features:
The X model doubles the maximum holding force on the tiller
Users will notice a slightly harsher clicking action in the X's lever
Some smaller, stout-built boats with heavy weather helm can benefit from the TillerClutchX as well, but the X-Model is not meant for lighter day sailors
WaveFront's patented TillerClutch lets you quickly "lash the helm" with the simple click of a lever
Praised by sailors as "the best mechanical tiller-controller on the market
No knobs to turn, friction to fight, plastic to break, or bungee cords to adjust.
Holds course while you do quick tasks, (reefing, trimming sails, tacking, anchoring, etc.), handles the steering load, and provides moments of hands-free cruising.
Made with marine-grade metals for an elegant, durable design
Easy to mount
Easy to use
Compact, Safe and Durable
Built in USA
Mounts under the tiller right beneath your steering hand

Simply click a lever on or off, like a switch, to securely grip or fully release the tiller control line
The lever operates a specialized rope clutch that engages the control line routed aft and out of the way
Lever conveniently located beneath the tiller for one-hand control

The TillerClutch gives you a firm hand on the tiller, whenever you need it
Specialized rope clutch engages a small control line for maximum efficiency and safety
Clean on/off lever operation; no knobs to turn, no friction to fight
Enables quick and effortless steering corrections
Sleek, compact design mounted safely out of the way
Precise computer-engineered mechanism
Made of hard-anodized aluminum and tempered stainless steel for durability
Also helps you hold the helm and take the load when the steering gets tough
Easy to operate even in heavy gloves
TillerClutch Unique Features:
Unique toggling rope clutch system precisely balanced to maximize holding power with minimal user effort. No need for adjustment screw-knob
Light touch activation when disengaged so the TillerClutch is always ready for use
Rope clutch mechanism calibrated to be overpowered in emergencies and to relieve excessive rudder stress in heavy conditions
Won't slip under normal working loads
Does not use or interfere with the mounting points of a tiller pilot and remains in place when a tiller pilot is used
Special grooved base fits round or square tiller handles
Simplified mounting requires only two screws centered along tiller shaft
Compact and solid metal construction withstands the abuse of hard sailing
Major components made of solid aluminum alloy hard-coat anodized and sealed
Internal parts made of passivated stainless steel
Mechanism designed to prevent jamming from sand, salt or corrosion for trouble-free use
Lever pivot rides on advanced synthetic bushings for permanent lubrication and electrical isolation to prevent galvanic corrosion
Thoroughly rounded edges for comfort and safety in rough, jostling conditions
In the Box:
TillerClutch
Mounting screws
16' ( 4.9 m) control line
Instructions
Note: The TillerClutchX is not recommended for most smaller, lighter trailer-size boats. It can allow greater loads on the steering components than they are designed to handle. Also, if ever necessary, it takes more effort to overpower the "X" model without first squeezing the lever. Still, unlike using an "autohelm," you can force the tiller, if necessary, without disengaging the mechanism of either model.
Part Numbers for WaveFront TillerClutch Kit