Water Witch Submersible Electronic Bilge Pump Switch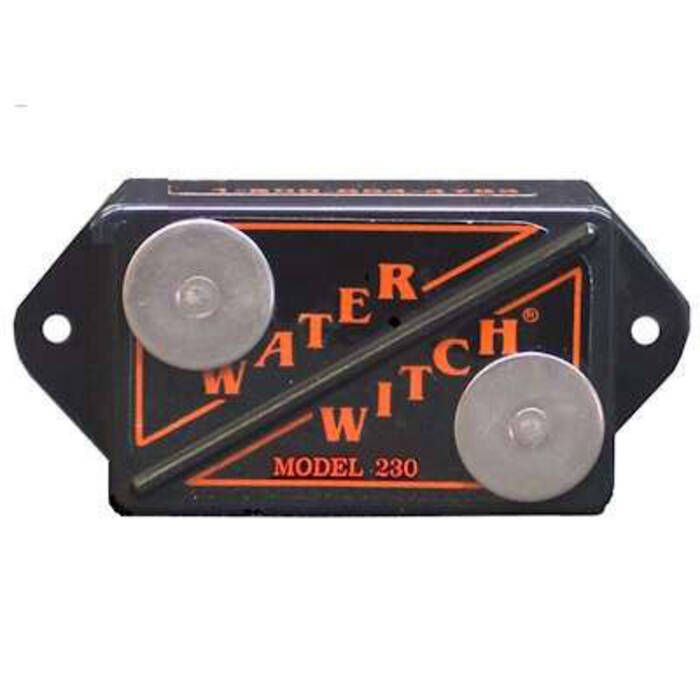 Water Witch Submersible Electronic Bilge Pump Switch
Item # 887333
Description
The Water Witch Submersible Electronic Bilge Pump Switch 230 allows boat owners to forever rid themselves of the archaic outdated float switch.
Features:
No moving parts and requires no adjustments
Eliminates the chance of your battery dying or your pump burning out because of a jammed-on float switch
Temperature, humidity and electrical noise will not affect this switch, nor will it interfere with other electronics
In use by both the Canadian and U.S. Coast Guards
No moving parts and no electrolysis
Impermeable to all bilge substances
Activates when water touches lower sensor
Will not interfere with other electronics
Will not pump a bilge full of gas, diesel or oil
Easy to install and mounts at any angle
30" lead of 16 gauge tinned copper wire
Unprecedented 7 Year limed warranty
Exceeds both United States Coast t Guard and U.L. Standards
Specifications:
Power Required:

12V DC (Model 230)
24V DC (Model 230-24)

Power used: .006A
Delay on: 6 - 8 seconds
Delay off: 15 seconds
Max load:

20A @ 12V DC
15A @ 24V DC

Dimensions: 2 5/8" W x 1 5/8 H x 1 5/8" D
Note: A fuse and manual override switch are recommended with the installation of a Water Witch electronic bilge switch
Note: This bilge switch is for installation in salt water only.
Part Numbers for Water Witch Submersible Electronic Bilge Pump Switch