Vetus Round Thruster Control with Joystick - BPJR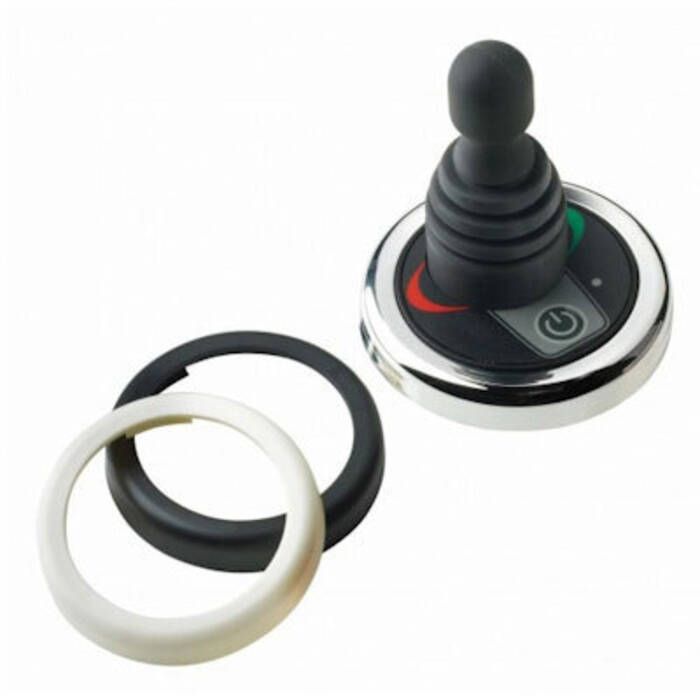 Vetus Round Thruster Control with Joystick - BPJR
Item # 887182
Description
Features:
This Vetus Thruster Control Panel can be mounted virtually anywhere due to its compact dimensions
Waterproof to IP66 from the front
Power: 12 or 24V DC
Includes white, black and chromed bezels
Equipped with a switched output for an additional function, such as a remotely controlled battery main switch for the bow thruster
Built-in time delay
Warning signal with automatic shutdown after (2) minutes of continuous running
Protection against accidental operation (child lock)
Automatic shut off after (30) minutes of inactivity
Cover diameter: 2-1/2"
Cut-out Dia. 2-3/64"

Small installation diameter: 2-3/64" (52 mm)

The hole Dia. is the same as VETUS engine gauges
The front bezels are also identical to the gauges and are supplied in white, black and chromed plastic
As a result, the panels can be customized to match existing gauges on the dashboard
It is even possible to mount this thruster control in an engine start panel, in place of a gauge
Specifications:
Length: 63.5 mm
Width: 63.5 mm
Height: 11 mm
Fitting Depth: 89 mm
Note: imperial dimensions are approximate, the manufacturer built this product to metric specs.
Part Numbers for Vetus Round Thruster Control with Joystick - BPJR