Vetus FTR330 Series Cooling Water Strainer
$117.99 - $137.99
$107.09 - $137.99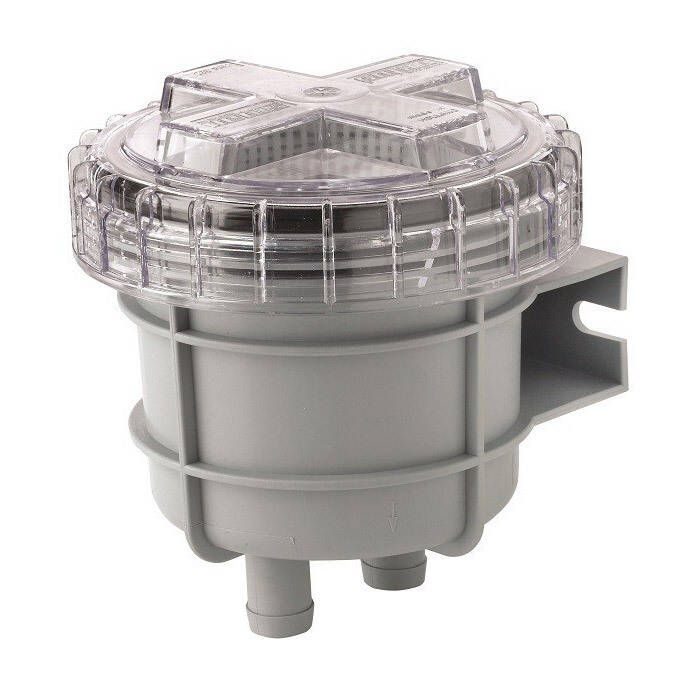 Vetus FTR330 Series Cooling Water Strainer
Item # 887042
Description
The Vetus FTR330 Series Cooling Water Strainer is a relatively low maintenance strainer that is designed to handle multiple gallons per minute of water flow. Its transparent cover makes inspections a breeze and because it is removeable, the filter element is easy to clean.
Features:
Cooling water strainer
Includes a transparent cover for easy inspection of the filter content. Cover is removable by simply unscrewing a single central knob
The strainer can be easily mounted using the separate wall bracket
Strainer can be rotated 360° to align the hose connections
The polished stainless steel mounting bracket clamps it securely in place
Parallel connection of (2) strainers can be done (strainers are sold individually)

With (2) water strainers in parallel a larger capacity can be obtained
With (2) water strainers in parallel and with the use of (2) extra valves (valves sold separately) it is possible to clean each filter separately, while the engine is running

Low maintenance: The filter element requires infrequent cleaning due to the large, active surface area
Specifications:
Housing material: Polypropylene GF
Strainer element: HD Polyethylene
Lid material: Polypropylene GF
Mounting bracket: Polypropylene GF/Stainless steel
Max. ambient temperature: 75° C (167° F)
Max. water temperature: 55° C (131° F)
Max. pressure: 0.5 bar (50 kPa, 7 psi)
Recommended Input:

12.7 mm (1/2") Inlet/Outlet Diameter: 23 L/minute
15.9 mm (5/8") Inlet/Outlet Diameter: 35 L/minute
19.1 mm (3/4") Inlet/Outlet Diameter: 51 L/minute
25.4 mm (1") Inlet/Outlet Diameter: 91 L/minute
31.8 mm (1-1/4") Inlet/Outlet Diameter: 143 L/minute
38.1 mm (1-1/2") Inlet/Outlet Diameter: 200 L/minute
Installation:
Always install the water strainer above the waterline
Mount the strainer against a vertical bulkhead
Always Install a sea-cock on the water inlet scoop
Always use flexible hose for both connections

Water scoop to strainer
Strainer to engine

Use only water and/or soap to ease fitting the hoses to the hose connections

Never use products containing grease or oil

Fit each hose connection with (2) stainless steel hose clamps (sold separately)
Pay attention to the flow direction through the filter
Note: imperial dimensions are approximate, the manufacturer built this product to metric specs.
Part Numbers for Vetus FTR330 Series Cooling Water Strainer