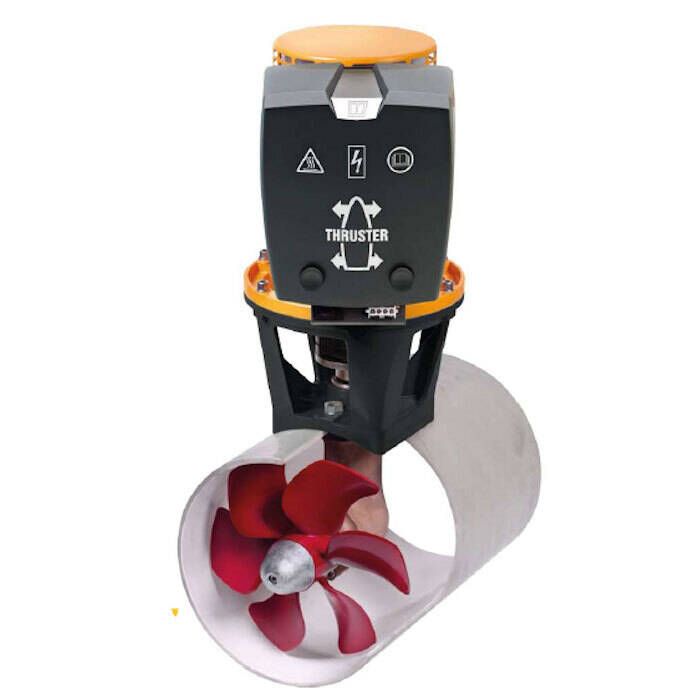 Vetus Bow Thruster - BOW3512E
Item # 886973
Description
The quietest bow thruster in its class just got better. Introducing the BOW3512E, an upgrade of the VETUS BOW3512D. Vetus has replaced the solid motor coupling of the D-series with a flexible rubber coupling to eliminate motor vibrations. This is a similar coupling to the BOW55, with exception of the input shaft as they differ in size. The tailpieces will use the same splines as found in the BOW55.
The BOW3512E will also feature an updated motor, making it more energy efficient than the outgoing BOW3512D model. To accommodate the flexible coupling, the flange height will increase by 30 mm. Apertures in the flange enable easy checking of the coupling. Last but not least, the flange face will change from triangular to round, allowing the motor to be rotated in steps of 90° as opposed to the current steps of 120°, and creating uniformity in the entire DC bow thruster range.
Features:
Flexible coupling between tailpiece and motor eliminates vibrations
Updated motor is more energy efficient
System is easy to install
Lightweight propeller and streamlined tailpiece

Single propeller creates less flow disturbance in tunnel
VETUS unique propeller blade design minimizes cavitation noise
Strong synthetic propeller is resistant to corrosion and reduces weight

Spiral gears

Spiral gears minimize transmission noise

Meets EMC requirements
Specifications:
Suitable for boats from 23 to 28' in length
Power: 12V DC
Current consumption: 220A
Continuous operating time: 4 minutes
Max. operating time: 4 minutes
Main fuse "slow blow": 160A
Ignition protection: No
Thrust (N/kgf): 350/35 (77 lbs)
Power: (kW) 1.5 (2 HP)
Motor, reversible DC: Yes
Internal tunnel diameter: 5.90" (150 mm)
Weight: 26.7 lbs (12 kg)
3-Year warranty:

Unique in the market
All VETUS boat equipment products come with a 3-year warranty
Note: imperial dimensions are approximate, the manufacturer built this product to metric specs.
Part Numbers for Vetus Bow Thruster - BOW3512E