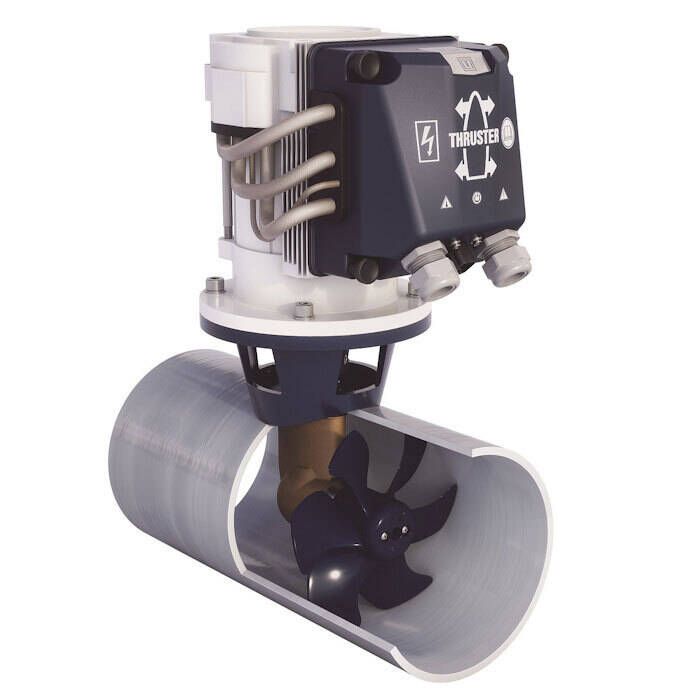 Vetus Bow Pro Thruster - BOWA0651
Item # 886963
Description
Vetus Bow Pro Thruster is a combination of the renowned electric bow thruster series and the quiet RimDrive and earned the prestigious Innovation Award at the 2018 Miami Boat Show from the National Marine Manufacturers Association.
Its proven induction technology makes the use of carbon brushes obsolete. As a result, the bow thruster is extremely quiet and has indefinite run-time! The induction motor is controlled by the VETUS MCV motor controller. This in-house-engineered motor controller can handle both 12V and 24V applications, making the new bow thruster suitable for almost all boats!
The Bow Pro thruster is controlled by a proprietary CANBUS protocol. There are two different panels available for this thruster; one fully-proportional basic panel and one fully-proportional panel with lock-function. This allows the boat to be "moored" without the use of ropes. Letting passengers board your vessel has never been this easy! In addition, retrofitting a Bow Pro thruster is easy as the new motor is interchangeable with the tailpiece and flange of the Vetus range of thrusters.
The size of your battery bank is the only limitation
Features:
Precision proportional control at your fingertips
CAN based/digital control for easier interfacing with the latest joystick docking systems
Electronic switching eliminates mechanical solenoids for improved reliability
Highly resistant to abuse
Endurance Rated Runtime

Bow Pro thrusters run 10 minutes at full power, after that power will reduce
At less than full power setting, run time is greatly enhanced

When paired with the BPPJA panel (sold separately), single person docking is an option
Maintenance-free brushless motor
Sealed for improved corrosion protection in bilge environments
Built-in over-temp and low-battery protection
Efficient, safe, reliable
Specifications:
Range of Boat Sizes: 34'-36' (10 - 11 meters)
Thrust in pounds force: 143 pounds
Motor horse power: 4
Voltage: 12V
Additional components required for installation (sold separately):

Tunnel part number most common length: BP185G10

Tunnel length: Approx. 40"/1000mm
Tunnel- center line below the waterline: 185mm

CAN-bus Hub: BPCANHUB
CAN-bus supply (12V only): BPCABCPC
Joystick panel with HOLD: BPPJA
Joystick panel NO HOLD: BPPA
VCAN Bus cable: BPCABC15M
VCAN Cable Controller to Hub: 49'/15M
VCAN Bus cable: BPCABC1M
VCAN Cable Hub to Thruster: 3"/1M
CAN-bus terminator: BPCANT
Power circuit fuse holder: ZEHC100
Power circuit fuse holder: ZE300
Note: imperial dimensions are approximate, the manufacturer built this product to metric specs.
Part Numbers for Vetus Bow Pro Thruster - BOWA0651