Vesper Cortex-V1 VHF Radio with AIS & Remote Vessel Monitoring - 010-02814-00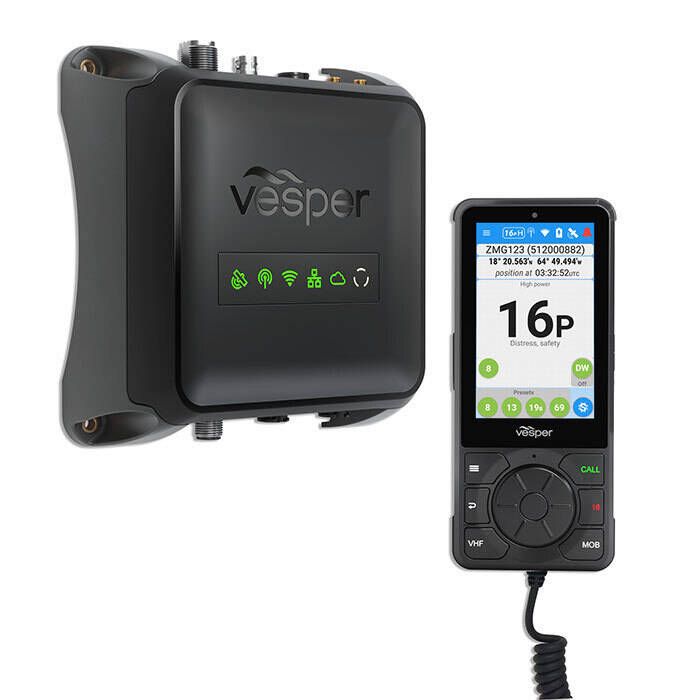 Vesper Cortex-V1 VHF Radio with AIS & Remote Vessel Monitoring - 010-02814-00
Item # 886893
Description
Vesper's Cortex-V1 VHF Radio with SOTDMA smartAIS and remote vessel monitoring is designed to monitor and control onboard systems so you can be alerted on board or ashore.
Features:
Includes M1 hub, tethered H1 handset and accessories
Built-in Class B SOTDMA with no-loss antenna splitter
Built-in WiFi and Cellular connectivity for monitoring on board and ashore
Low power consumption hub
10Hz GPS antenna
4-inch multi-touch display with gorilla glass for maximum durability
Single hand operation with click wheel and dedicated buttons
Wet and glove capable touchscreen
Optically bonded display for wide-angle and sunlight viewability, even in the harshest midday sun
85 dBA of crystal-clear audio
Combined AIS and VHF display with voiced alerts
Touch a vessel onscreen for direct calling (DSC)
General Specifications:
Size: 168 mm x 168 mm x 58.7 mm depth (6-5/8" x 6-5/8" x 2-5/16")
P
Weight: 770 g (1.7 lbs)
Environmental Waterproof (IPx7)
Operating Temperature: -25° C to +55° C (-13° F to 131° F)
Supported Protocols: AIS Class B SO-TDMA, VHF Voice, Class D DSC, ATIS (user configurable, EU region), NOAA Weather (US region)
Transmitter Frequency Error: Less than 300Hz
Antenna Connector: SO239
Splitter: Max input power 25W, Insertion Loss RX 0dB, TX < 1dB
Splitter Connector: BNC (2W)
VHF Specifications:
VHF Frequency Range Transmit: 156.025161.600 MHz
VHF Frequency Range Receive: 156.050163.275 MHz
Dedicated Rx Channels: 3
Power Output: 25W, 1W (High, Low)
Regions: USA, CAN, INT
Sensitivity: (12 Db Sinad)-116 dBm
Adjacent Channel Selectivity: 80 dB
Spurious Response: 70 dB
Intermodulation70 dB
Spurious Emissions: Less than 80 dBc (at 25 W)
Max Audio Output Power: 10W, < 1% THD
Direct Calling (DSC) Specifications:
Class: D
Dedicated Receive Channels: 1
Sensitivity: (1% Ber)-113 dBm
Adjacent Channel Selectivity: 80 dB
Spurious Response: 70 dB
Intermodulation: 70 dB
AIS Specifications:
Class: SO-TDMA Class B
Dedicated Receive Channels: 2
Frequency Range: 156.025 162.025 MHz
Power Output: 5W, 1W (High, Low)
AIS Sensitivity (20% Per): -112 dBm
Adjacent Channel Selectivity: 80 dB
Spurious Response: 70 dB
Intermodulation: 65 dB
GNSS Specifications:
Sensitivity: -167dBm
Constellations: GPS, GLONASS, Bei Dou, Galilleo
Channels: 72
Differential Support: SBAS, WAAS, EGNOS
Navigation Rate: 10Hz
Connector: SMA
Certifications: IEC 61108
Features: Anti-jamming, Anti-spoofing
Networking Specifications:
Nmea 2000 Gateway: 1 x Isolated Micro-C male port, AIS and GPS PGN output, Gateway Translations to/from NMEA0183
Nmea 0183: 1 x Isolated NMEA0183 ports, AIS and GPS sentences, Gateway Translations to/from NMEA2000, 4800 / 38400 baud
Wireless: Access Point for up to 10 devices, 2.4GHz, 802.11b/g/n, Integrated Antenna, SMA-RP external antenna port (optional)
Wireless Security: WPA2 Personal
Cloud Connectivity: LTE-Cat1 with 3G fallback (USA), 3G (Canada, EU, Asia), Integrated SIM, Integrated Antenna, SMA-RP external antenna port (optional)
Control Outputs: 2 Outputs. Low side driven (max 200mA)
Sensors Specifications:
Heading: 9-Axial, Internal use only, Accuracy: +/- 1 deg, Updated rate: 10Hz (max)
Battery Voltage: Measured at power input
External Sensor: Inputs5 Inputs, Digital (0-24V), Analog (0-17V)
Audio Specifications:
Supported Functions: VHF RX, Alarms
Amplifier: 10W Class D, THD < 1%
Speaker: 4 ohm
Tehtered H1 Headset Specifications:
Size: 164.8 mm x 71.8 mm x 21.4 mm (6-5/8" x 6-5/8" x 2-5/16")
Power Supply: 12V, 1A max, 200mA nominal, 12 -24V compatible
Battery: Lithium Polymer, 2 hour full charge, >12 hours nominal operation
Weight: 235g
Environmental: Waterproof (IPx7)
Operating temperature: -25°C to +55°C (-13°F to 131°F)
Audio: 3W Class D amplifier, THD < 5% @ 85dBA
Part Numbers for Vesper Cortex-V1 VHF Radio with AIS & Remote Vessel Monitoring - 010-02814-00
Reviews
Rated

2

out of

5
by
Marcus
from
Not ready for prime time.
I really wanted to love this. I was excited when it came out since having software defined radio lets you add features and upgrades. I installed this about a year ago on my sailboat. My boat is in Florida, I am in Colorado, I use this to keep track of things, particularly voltage since sometimes the yard loses power and I don't need the dehumidifier running off my 12v batteries. Some observations: Sometimes the monitoring goes out. Sometimes it's because they screw up an update and the monitoring is just flat out broken. This has happened twice. Once it was for a couple of weeks. Sometimes the unit just goes offline for no apparent reason. They tell me I need to cycle the power to it. Guess what? I'm 2000 miles away! Somehow they don't understand the remote part of remote monitoring. This part is infuriating. When I contacted them about it they said it's because my voltage dropped below 12v. It hasn't, I have the logs from my Victron devices to prove it. It never goes below 13.4. In an attempt to troubleshoot this I reinstalled the monitoring app and now it doesn't recognize that I have a monitoring subscription. It thinks I'm a free trial user. Another support call required. The wireless handset lasts about 7 hours before you need a charge. That's not long enough, it's just enough for it to die at nightfall so I had to pay for a wired handset at the binnacle so I could still use this if I'm out for more than 7 hours. These handsets are ridiculously expensive. At this point I'd return it if I could and buy something boring like an icom, or 3 icoms, for what I have invested in this. When it works it is wonderful, the DSC calling works great, the remote speaker is very nice, the ability to see ais on a little plotter on the handset is great when in the intercoastal and you're trying to figure out who is passing you. Seriously, the UI is very well done. Unfortunately the inconsistency in other parts of the package means I'm troubleshooting more than I want to. It's not quite 'built in someone's basement from a raspberry pi and an android phone' but it's not up to the standards of good marine equipment either. Somewhere in between. If you like futzing with this stuff maybe you'll love it. I just want it to work.
Date published: 2023-07-24