Tylaska Marine CR8 Snap Shackle with Swivel Bail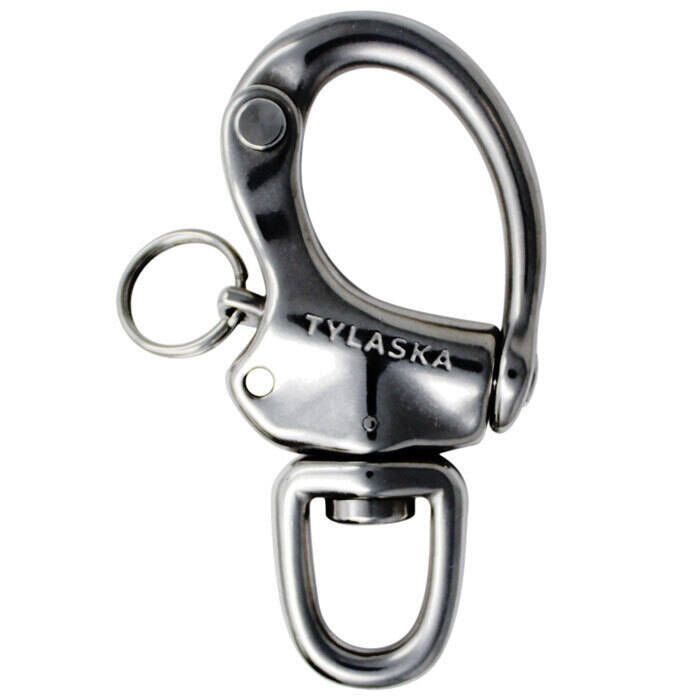 Tylaska Marine CR8 Snap Shackle with Swivel Bail
Item # 886633
Description
Tylaska Marine's CR8 Snap Shackle with Swivel Bail is a high performance, aerospace quality, racing piece that provides extreme strength and outstanding corrosion resistance.
Features:
High strength 17-4 stainless steel construction
100% Proof loading to W.I.L.L.
Superior corrosion resistance
Sleek snag-resistant geometry
Reduces the risk of snagging and fouling
Captive plunger-pin mechanism with firm spring action
Locking hole allows the plunger pin to be locked in place using a small line or zip tie

Useful in extreme conditions where snap shackles have been known to release due to severe flogging

Made in the U.S.A.
Specifications:
Weight: 4.5 oz.
Max Line Size: 1/2"
Working Load Limit: 4,000 lbs
Breaking Load: 8,000 lbs
Dimensions:

A: 0.96"
B: 0.54"
C: 3.65"
D: 1.74"
E: 0.25"
F: 0.54"
Part Numbers for Tylaska Marine CR8 Snap Shackle with Swivel Bail