Travaco Gluvit Waterproof Epoxy Sealer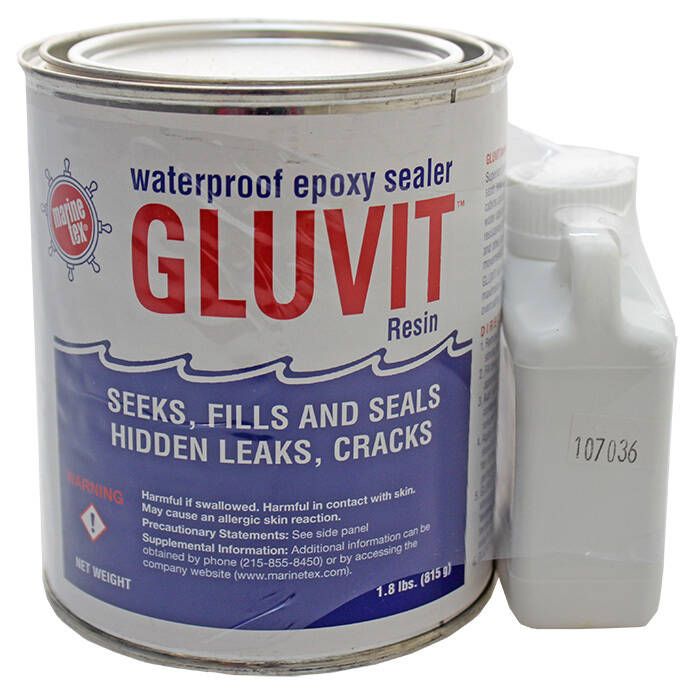 Travaco Gluvit Waterproof Epoxy Sealer
Item # 886224
Description
Travaco's Gluvit Epoxy Sealer is an impact and abrasion resistant barrier coat that minimizes fiberglass blistering and corrosion on stringers, decking and molding.
Features:
Acts as a barrier coat to minimize water absorption and galvanic corrosion
Seals leaky seams and rivets in aluminum hulls
Protects wooden hulls
Seals leaks around fiberglass cabins and decks
Fills minor cracks and pinholes
Long working time allows penetration into cracks to seal and strengthen
Provides abrasion resistance to protect hull sides and bottoms

May be used on boats, surfboards, snow boards, etc

Overcoat with any marine paint or other coating compatible with epoxies
One coat 10 mils thick withstands 4000 lbs/sq.ft. of water pressure
May be pigmented with Fiberglass Evercoat coloring agents

Neutral color can be pigmented or painted
Specifications:
Pot life: 1 to 2 hours
Coverage (quart): 25 sq. ft. @ 10 mils; 25-35 sq. ft. @ 8 mils
Coverage (gallon): 100 sq. ft. @ 10 mils; 100-130 sq. ft. @ 8 mils
Note: Images show quart size but can be purchased in quart or gallon sizes.
Travaco Gluvit Epoxy Sealer Product Information and Application Instructions
Part Numbers for Travaco Gluvit Waterproof Epoxy Sealer