Tohatsu 50 HP Remote Outboard Motor - MFS50 - 2023
$6,130.00 - $7,827.00
$6,130.00 - $6,895.00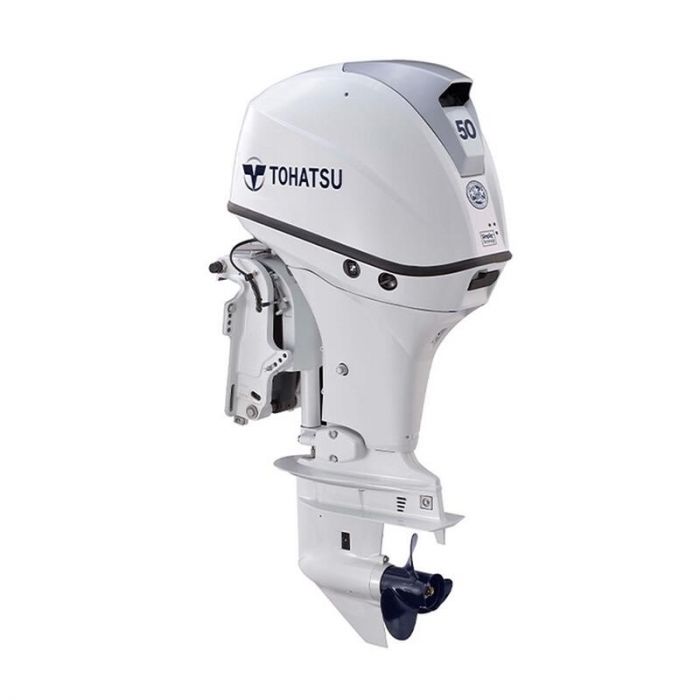 Tohatsu 50 HP Remote Outboard Motor - MFS50 - 2023
Item # 951581
Description
You asked and they listened by outfitting the 50hp EFI four stroke with an improved gear case with a lower gear ratio, giving you the increased low end torque your boat needs.
This outboard also has variable idling speed control from 650 to 950rpm's. And the MFS50's stainless steel water pump housing liner gives you outstanding durability. With the 50 hp four stroke's power to quickly reach your destination, exceptional fuel performance to keep gas costs down and proven electronic fuel injection technology for worry-free boating, you've never had a day on the water quite like this.
Features:
Sleek design with two color options: Aqua Marine Blue and Beluga White
Outstanding fuel economy
Lightest weight in its class, starting at just 209 lbs
Available in short (15"), long (20") & ultra-long (25") shaft lengths
Electronic Fuel Injection
Digital CD ignition system for quicker starts
High output 21A alternator
New and improved gear case with lower gear ratio for increased low end torque
Adjustable steering friction and trim tab for reducing steering effort
Power trim & tilt
Through the prop exhaust for a quieter ride
Built-in freshwater flushing system for easy routine flushing
Variable idling speed control from 650 to 950 rpm's
A camshaft-driven trochoid oil pump ensures long-term durability of critical engine components
Stainless steel water pump housing liner for outstanding durability
Low oil pressure warning (visual and audible)
Overheat warning (visual and audible)
Battery voltage warning (visual only)
Start-in-gear protection for safer engine starting
Safety lanyard (an essential protection feature standard on all Tohatsu outboards)
Over-rev. limiter
Specifications:
Engine: 4 Stroke 3 Cylinder
Output: 50 HP (36.8 kW)
Displacement: 866 cc (52.9 cu.in.)
Bore x Stroke: 70 x 75 mm (2.76" x 2.95")
Starting: Electric
Control Type: Remote Control
Gear Shift: Forward - Neutral - Reverse
Gear Ratio: 2.08:1 (13:27)
Shaft length: 15"or 20"
Fuel: Unleaded Gasoline (87 Octane) or higher
Oil Type: NMMA Certified FC-WR 4-stroke oil SAE 10W-30/40 (SF, SG, SH, SJ)
Oil Capacity: 2.4 L (0.63 gal) with filter
Weight (based on lightest model): 95 kg (209 lbs)
Alternator Output: 12V, 252W, 21A
Max. RPM Range: 5,000 - 6,000
Digital ECU Controlled Ignition System: Standard
Electronic Fuel Injection: Standard
Start In Gear Protection: Standard
Thermostat Controlled Cooling System: Standard
Through-The-Prop Exhaust: Standard
Overheat Buzzer: Standard
Oil Pressure Warning: Standard
Factory Warranty: 5 years. Warranty begins on date of purchase.
Note: Fuel tank and fuel line not included.
Part Numbers for Tohatsu 50 HP Remote Outboard Motor - MFS50 - 2023