Tohatsu 20 HP Tiller Outboard Motor - MFS20 - 2024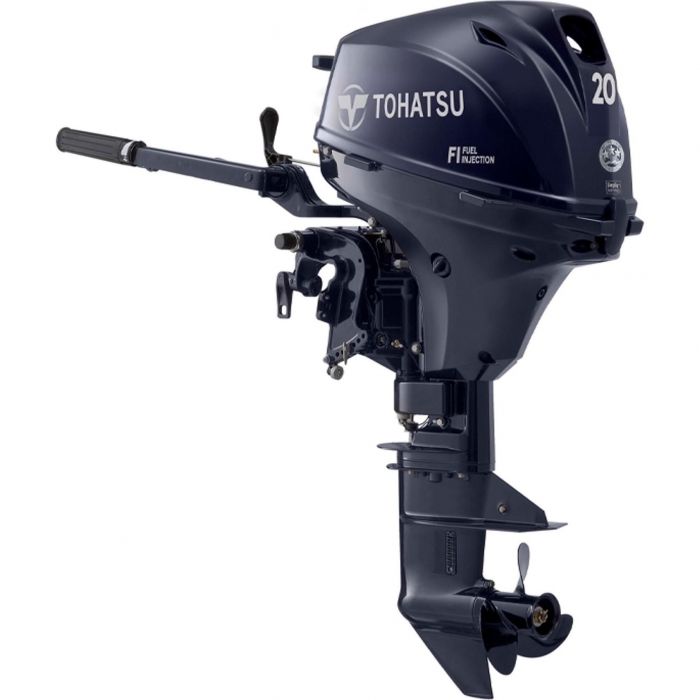 Tohatsu 20 HP Tiller Outboard Motor - MFS20 - 2024
Item # 989828
Description
Boasting the honor of the lightest weight outboard in its class, Tohatsu's newly designed MFS 20 HP Electronic Fuel Injection (EFI) is a great choice for a wide variety of boaters. Just because it is lighter in weight than the previous 20 HP four stroke, doesn't mean this model won't deliver the same level of performance. This 20 HP battery-less electronic fuel injection four stroke has exceptional torque and top end speed, with low vibration. An EFI outboard with easy startup with no choke required and smooth, crisp acceleration throughout all RPM ranges. Another added benefit of an EFI versus the previous carbureted outboard is the fuel efficiency at wide open throttle, which allows you to go up to 50% farther on less fuel.
Features:
Advanced EFI for smooth operation, easier starting and increased fuel efficiency
Canister style oil filter for easy replacement
A high quality, user-friendly fuel water separator
Greatly reduced vibration for a smoother and quieter ride
EPA and CARB 3-Star rating approved
Digital Electronic Control Unit (ECU) for immediate engine starting in all conditions, quicker throttle response and smoother trolling
Battery-less EFI with recoil starter on all models
Outboard is easier to lift and tilt into shallow drive because we've moved heavy components forward
Large alternator and rectifier for superior battery charging (electric start models only)
Through-the-prop exhaust for a quieter ride
Thermostatically controlled cooling system for consistent engine temperature
Stainless steel water pump housing liner for outstanding durability
High grade marine aluminum alloy that provides the ultimate protection against corrosion
Zinc coating on internal water passages for superior corrosion resistance
3.1 gal (12 L) fuel tank includes fuel fittings and fuel line with fuel gauge on the cap
Aluminum propeller
Safety lanyard
Start-in-gear protection for safer engine starting
Over-rev. limiter
Specifications:
Engine: 4 Stroke 2 Cylinder
Output: 20 HP (14.7 kW)
Displacement: 333 cc (20.32 cu.in.)
Bore x Stroke: 61 x 57 mm (2.40" x 2.24")
Starting: electric or rope
Control Type: Tiller Handle
Gear Shift: Forward - Neutral - Reverse
Gear Ratio: 2.15:1
Shaft length: 15"or 20"
Tilt system: manual or power tilt
Fuel: Unleaded Gasoline (87 Octane)
Oil Type: NMMA Certified FC-W 4-stroke oil SAE 10W-30/40 (SF, SG, SH, SJ)
Oil Capacity: 1L (1.06 qt)
Fuel Tank: 12 L (3.1 gal) external fuel tank
Weight (lightest available model): 43 kg (94.8 lbs)
Alternator Output (electric start models only): 12V, 145W, 12A
Max. RPM Range: 5,400 - 6,100
Digital ECU Controlled Ignition System
Electronic Fuel Injection
Start In Gear Protection
Thermostat Controlled Cooling System
Standard Propeller: 3-Blade Aluminum (9.25" x 10")
Through-The-Prop Exhaust
Oil Pressure Warning
Standard 3-Blade Aluminum Propeller: 9.25" x 10"
Factory Warranty: 5 years. Warranty begins on date or purchase.
Part Numbers for Tohatsu 20 HP Tiller Outboard Motor - MFS20 - 2024