Teak Wonder Teak Wood Dressing and Sealer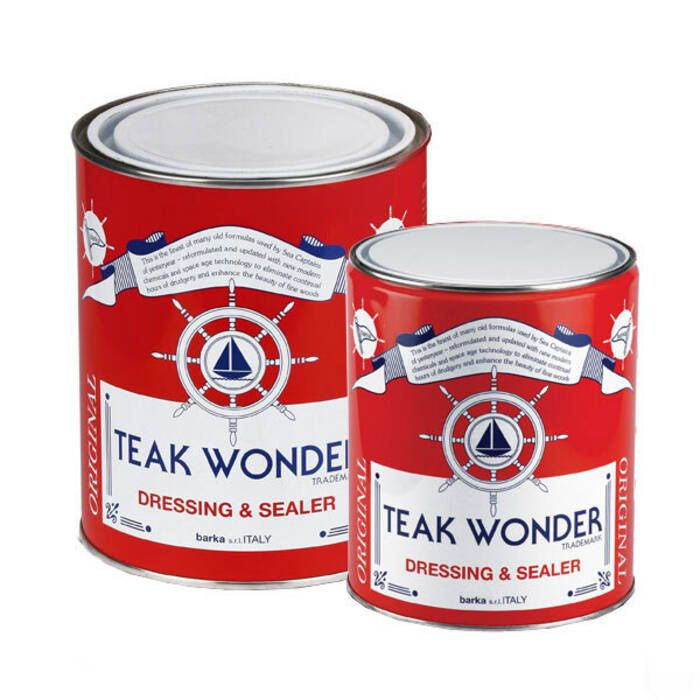 Teak Wonder Teak Wood Dressing and Sealer
Item # 885724
Description
TEAK WONDER Teak Wood Dressing and Sealer is a safe and durable, non-oil based product which provides a pleasant golden color without darkening the teak or producing that fake colored look.
Features:
Seals the wood, blocking the penetration of dust and dirt
Protects the natural teak oils against UV Rays, slowing the oxidation and discoloration process
Inhibits the penetration into the wood of liquids such as:

Fuel
Oil
Fish blood
Paints

Will not make Teak glossy or slippery
Does not falsely darken the Teak
Will not build up an accumulation on the surface
Quick-drying and has no odor
Specifications:
Coverage: 55-65 Sq. ft. per Liter
Note: If working with new teak, it is recommended that (2) coats of TEAK WONDER are applied (with heavy brush strokes). If Teak is old and dirty, then the wood should be previously treated with TEAK WONDER® CLEANER and TEAK WONDER® BRIGHTENER.
Part Numbers for Teak Wonder Teak Wood Dressing and Sealer