Stay Afloat Emergency Form-A-Plug Leak Sealant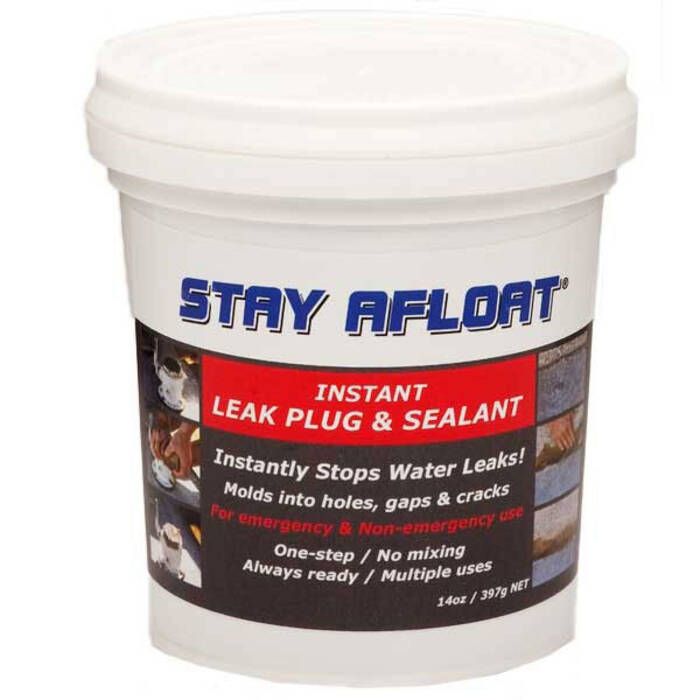 Stay Afloat Emergency Form-A-Plug Leak Sealant
Item # 884609
Description
Stay Afloat is a non-hazardous, hand-applied, moldable, putty-like material that instantly plugs leaks in boat hulls and marine fittings.
Features:
Patent pending EMERGENCY and non-emergency boat damage control product
Used by first response emergency marine rescue operations
Applied by hand directly from the container in one part - no waiting, mixing or tools required
Non-toxic, non-hazardous and environmentally friendly
Simple and effective material for stopping water intrusion on a boat
Designed for use above or below the waterline use, quick and easy way to plug a leaking thru hull or crack in the hull
Tested to 19.15 PSIA at 3 m deep for 24 hours, with no compromise
Specifications:
Multiple sizes available
Material: 1-Part Moldable Polymer, Hand Applied Putty
Removal: Requires Mechanical removal
Applications: Hull Leaks, Broken or leaking seacock valves, Broken or leaking thru - hulls, Broken or leaking transducers, Leaking deck fittings, Leaking hawse pipes & deck pipe covers, Leaking port lights, windows or broken windows, Leaking hatches & doors, Leaking showers and heads, Leaking seams or transoms, Plug scuppers, Plug drain holes, Waterproof electric connections, Waterproof key ignition switches, Waterproof Leaking motor covers, Seal leaking buckets, Leaking bait wells, Leaking coolers, Leaking Kayaks, etc.
Note: It is not intended to be used on engines and it is not intended to be used on inflatables.
Part Numbers for Stay Afloat Emergency Form-A-Plug Leak Sealant