Star brite MDG Mold/Mildew Odor Control - 89990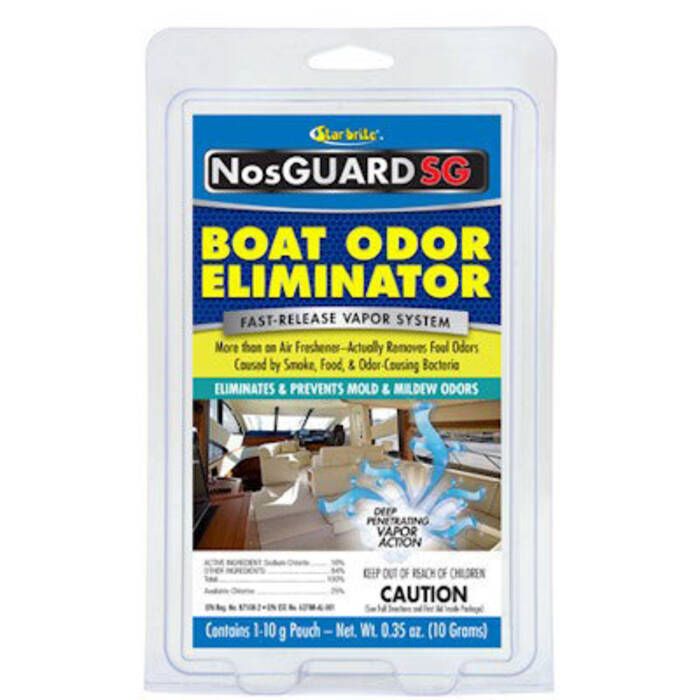 Star brite MDG Mold/Mildew Odor Control - 89990
Item # 884498
Description
NosGuard SG Mold / Mildew Odor Control Boat Bomb is the perfect solution if you discover foul smells when taking the boat out of storage. The Boat Bomb utilizes a unique sponge delivery system to activate the fast-acting, deep-penetrating vapor that thoroughly permeates and penetrates the treated area.
Features:
Patented delivery system is extremely effective at preventing and eliminating all types of mold \ mildew odor and other foul, unpleasant odors
Chlorine dioxide formula
Completely treat an area within (6) hours
Works by releasing a deep-penetrating vapor that completely permeates throughout an enclosed area
The Fast Release System treats an area extremely quickly, while the Slow Release System remains effective for up to 3 months to keep the area odor-free
Fast Release System is the fastest, most effective solution when you need to eliminate strong, foul odors ASAP
Slow Release System is ideal for use in preventing odor and maintaining air quality in stored boats, RVs or vacation homes
It is also ideal for year-round use in homes and boats to maintain air quality and to keep mold / mildew odor and other foul odors from forming
The Boat Bomb is ideal for removing strong odors such as those that can form during long-term storage or are the results of smokers or pets onboard
It can also be used in cars, RVs, storage areas, basements or any other enclosed area to remove

Powerful formula eliminates even the strongest odors extremely quickly
Ideal for removing foul odors from boats or RVs coming out of long-term storage
Deep-penetrating vapor thoroughly permeates treated area

Each package contains (1) 10 gram pouch and sponge delivery system.
Each pouch treats an area up to 1,000 cu.ft. (A cabin or room approximately 10" H x 10" L x 10" W)
Note: This product is Not to be used while people or pets are present, but treated area is safe for use after being aired out.
Part Numbers for Star brite MDG Mold/Mildew Odor Control - 89990