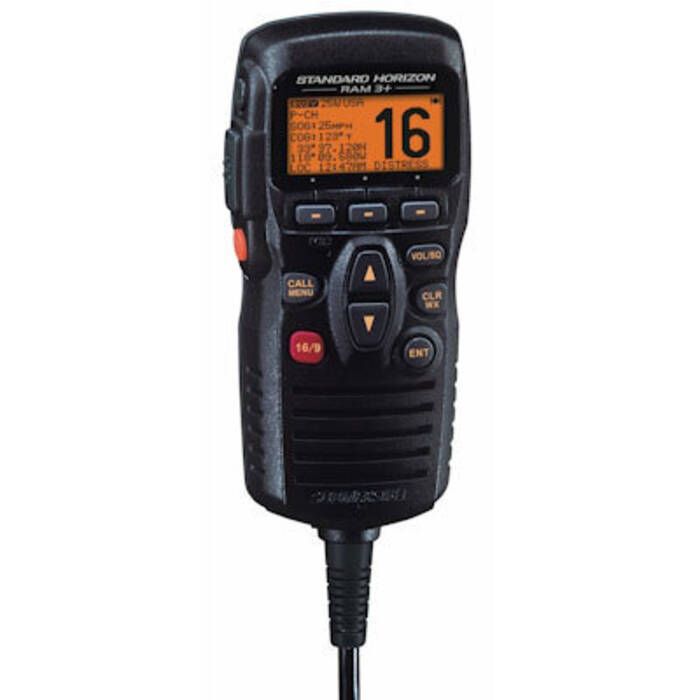 Standard Horizon RAM3 CMP31 Remote Mic
Item # 884417
Description
The Standard Horizon RAM3 CMP31 is a second station remote control microphone that allows you to perform all of the same functions that are available on the fixed mount VHF.
Features:
Full dot matrix display and soft keys make operation simple and fast
Turn the radio on or off and use all DSC functions including Distress
When connected to the QUANTUM SERIES VHF, this remote station mic controls the 30W PA and Hailer functions whether you're at the Nav station, cockpit, tower or lower helm station
Intercom capability when connected to a compatible Standard Horizon VHF
May be extended to up 70 feet using the optional CT - 100 (23 Foot) extension cable
Backed by an industry leading 3-year waterproof warranty
80-90 dB sound level across the audio spectrum including highs and lows

dB levels are exponential, and estimated at least 30% increase in audio from previous model CMP30

Supplied with:

A 23 feet routing cable and a waterproof panel mount connector
A pair of speaker wires is supplied on the rear of the routing cable for the ease of adding an extension speaker, so you do not need to pull additional wires
Note: This model RAM3 is only compatible with Standard Horizon radios manufactured after Dec 2016. If you are unsure of your units age, please contact Standard Horizon with your radio's serial number.
Explorer GX1600
Explorer GX1700
MATRIX GX2000
MATRIX AIS GX2150 / GX2200
QUANTUM GX5500S / GX5500SM
Note: All the normal functions of your Fixed Mount Radio model-- VHF, DSC, setup menus, AIS, Waypoints, compass functions and PA/ Fog modes can be accessed, displayed, and remotely operated via the CMP31, except for your receiver's audio volume setting and squelch level setting. The base radio has its own volume and squelch settings. This cannot be controlled by the CMP31. The CMP31 has its own speaker volume and squelch settings that can be controlled by the VOL/SQ button. This product does not work with radio models produced before 2013.
Specifications:
Select color
Cable length: 24.25"
Applications: Select fixed mount standard horizon VHF radios

Explorer GX1600
Explorer GX1700
MATRIX GX2000
MATRIX AIS GX2150 / GX2200
QUANTUM GX5500S / GX5500SM
In the Box:
Standard Horizon CMP31 Enhanced RAM3 Second Station Remote Control Microphone
23-Foot routing cable (S8101512)
Rubber cap (RA052520A)
Mounting bracket (RA052510) & Screws (U24312020 x 4 pcs)
Microphone hanger (RA0458800: Black or RA0436000: White) & screws (U40412220 x 2 pcs)
Ferrite core (L9190198)
Part Numbers for Standard Horizon RAM3 CMP31 Remote Mic