Standard Horizon HX890 Floating Handheld VHF Radio with GPS, DSC and FM Receiver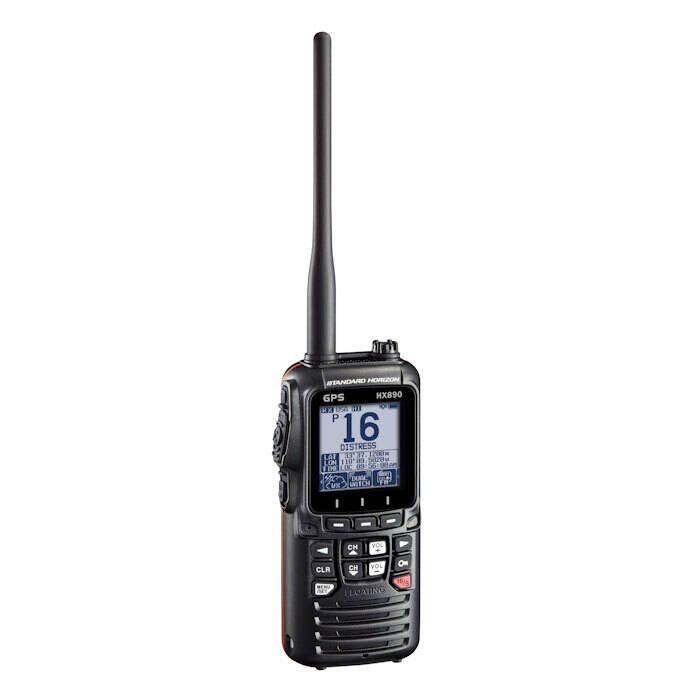 Standard Horizon HX890 Floating Handheld VHF Radio with GPS, DSC and FM Receiver
Item # 884400
Description
The Standard Horizon HX890 handheld, floating, 6-watt, Class H, DSC VHF/GPS has some prominent updated features built in, including two scrambler systems a 4-code CVS2500A and a 32-code FVP-42 scrambler for secure communications, and an FM receiver for those times when you want to kick back and listen to some tunes rather than chatter.
Other notable features include: Switchable daytime or nighttime mode, waypoint and route navigation, and group monitor function utilizing DSC Group position call. In addition, the HX890 is redesigned with a new ergonomic case, and has been rigorously tested to conform with Military Standard MIL-STD-810F.
The HX890 comes packaged with all the accessories, including the rechargeable Li-ion battery, alkaline battery tray, 110V wall charger, 220V adapter, charging cradle, 12V charger, PC programming cable, and belt clip with lanyard. And it's backed by our industry-leading, 3-year waterproof warranty.
Features:
6-watt transmit power output (selectable 6/ 2/ 1 W)
700mW Loud Audio and Noise Canceling Function for both TX/RX audio
Rugged case construction conforms to Military Standard MIL-STD-810F
Available in navy blue or black
Submersible IPX8 construction, floatable
DSC (Digital Selective Calling) ITU-R M.493 Class-H operation
Rounded case design provides excellent ergonomics (5.43" H x 2.60" W x 1.50" D)
Integrated, highly sensitive 66 channel WAAS GPS receiver

Allows HX890 to lock on to position quickly, accurately with position information displayed clearly to allow user to share position information using DSC and navigate to waypoints using waypoint navigation feature

11-hour operating time with 1800mAh high capacity Li-ion battery
Easy-to-operate menu system with large (1.7" x 1.7") full-dot matrix display

Menu system makes this the most intuitive handheld on market. DSC calling, position sharing, waypoint and route navigation, navigation to DSC distress call can all be performed with a few simple steps

Selectable Display Mode - Day & Night Mode

One of the largest displays in a handheld VHF radio combined with greater (dot matrix) resolution and super bright backlight for improved viewing day or night

Waypoint and Route Navigation
Group Monitor Function utilizing DSC Group Position Call

Advanced feature allows continuous tracking and position display of up to 9 pre-selected vessels with their position displayed on compass page relative to your location

MOB (Man over Board) feature
Water Activated Emergency "WHITE" Strobe Light

If the radio falls in the water an emergency strobe light is automatically activated, even when the unit is turned off!!! The strobe can be reconfigured to flash on and off, flash SOS, or set to stay on continuously

Two Scrambler Systems built-in: 4-code CVS2500A & 32-code FVP-42
Versatile scanning operation (Dual Watch and Triple Watch)
NOAA weather channels with weather alert
FM Broadcast Radio Receiver
Micro USB Data jack for PC programming
3-Year waterproof warranty
Specifications:
Frequency Range: (Frequency differs in some regions)

TX: 156.025 MHz - 161.600 MHz
RX: 156.050 MHz - 163.275 MHz (USA / International, Including WX channels)

Channel Spacing: 25 kHz
Frequency Stability: ±3 ppm (4° F to +140° F [20° C to +60° C])
Emission Type: 16K0G3E for Voice, 16K0G2B for DSC
Antenna Impedance: 50 Ω
Supply Voltage:7.4V DC, Negative Ground (Battery Terminal)
Current Consumption:

380 mA (Receive)
130 mA (Standby, GPS On)
110 mA (Standby, GPS Off)
1.6 Amp / 1.0 Amp / 0.7 Amp
(TX: 6W (5W) / 2W / 1W)

Operating Temperature: 4° F to +140° F (20° C to +60° C)
DSC Individual Directory: Store up to 100 Identities
DSC Group Directory: Store up to 30 Groups
DSC Format: ITU-R M.493-14
NMEA Output: DSC, DSE, GLL, GGA, GSA, GSV, and RMC
Case Size (W x H x D): 2.60" x 5.43" x 1.50" (66 mm x 138 mm x 38 mm) (w/o knob & antenna)
Weight: 10.94 oz (310 g) (Including: SBR-13LI, hand strap, belt clip & antenna) (5 W TX required in Some Countries)
TRANSMITTER

RF Power Output:

6W (5 W) (HIGH)
2W (MEDIUM)
1W (LOW) (@7.4V)

Modulation Type: Variable Reactance
Maximum Deviation:: ±5 kHz
Spurious Emission: Less than 0.25 μW
Microphone Impedance: 2 kΩ (5 W TX required in Some Countries) 104

RECEIVER (for Voice and DSC)

Circuit Type: Double-Conversion Superheterodyne
Intermediate Frequencies:

Voice 1st: 38.85 MHz 2nd: 450 kHz
DSC 1st: 30.4 MHz 2nd: 450 kHz

Sensitivity:

Voice: 0.25 μV for 12 dB SINAD (U.S.A.)

-5 dBμ for 20 dB SINAD (EXP)

DSC: 0.5 μV for 12 dB SINAD (U.S.A.)

0 dBμ for 20 dB SINAD (EXP)

Adjacent Channel Selectivity: 70 dB typical
Intermodulation: 70 dB typical
Hum & Noise Ratio: 45 dB typical
Selectivity: 12 kHz / 25 kHz (6 dB / 60 dB)
AF Output (Internal SP): 700 mW @16 Ω for 10 % THD (@7.4 V)

GPS

Receiver Channels: 66 Channels
Sensitivity: Less than 147 dBm
Time to First Fix: 1 min typical (@Cold Start) 5 sec typical (@Hot Start)
Geodetic Datum: WGS84

FM BROADCAST RECEIVER

Frequency Range: 65 MHz - 108 MHz
Frequency Step: 100 kHz
Sensitivity: 1.0 μV for 12 dB SINAD
In the Box:
HX890 Transceiver
CAT460 Antenna
SBR-13LI - 7.4V 1800mAh Li-ion Battery Pack
SAD-25 AC Adapter for SBH-32
SBH-32 Charger Cradle
E-DC-19A DC Cable with 12V Cigarette Light Plug for SBH-32
SBT-13 Alkaline Battery Case for AAAx5
CLIP-22 Belt Clip
YS-05-01 Hand Strap
T9101648 USB Cable
Owners Manual
Part Numbers for Standard Horizon HX890 Floating Handheld VHF Radio with GPS, DSC and FM Receiver