Sportsman Deep Cycle Marine Battery - 12V Lead Acid Group 27 - DC27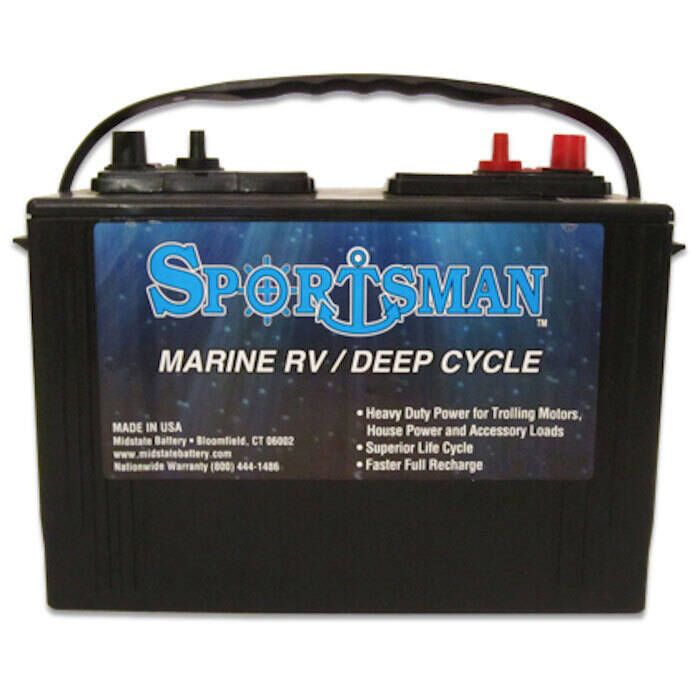 Sportsman Deep Cycle Marine Battery - 12V Lead Acid Group 27 - DC27
Item # 884240
Description
Sportsman Group 27 Marine Deep Cycle Wet Acid Batteries are specially engineered with heavier, thicker plates with fiberglass reinforcement, special power-producing active material and special heavy-duty separators.
Features:
Can withstand the potentially damaging effects of continual deep discharge and recharge
Unreinforced, thinner plates of a starting battery cannot handle this constant deep cycling, and will fail in short order
Delivers a long, slow discharge of fewerA for several minutes or hours
Great for running a trolling motor or heavy marine accessory load (e.g. depth finders, fish finders, radios, radar, lights, coolers, house power, etc.)
Warranty: 18 Month Free Replacement
Specifications:
Battery Group: 27
Volts: 12
Amp Hours: 90
Reserve Capacity: 200
MCA / CrankingA: 705
Dimensions: 12.5" L x 7.75" W x 9.375" H
Weight: 53.5 lbs
Terminal Type: Post & stud
Note: Specifications may be subject to change per the manufacturer.
Part Numbers for Sportsman Deep Cycle Marine Battery - 12V Lead Acid Group 27 - DC27