Spectra Watermakers Ventura 200T Watermaker with Analog Control Panel - VT-200-T-12V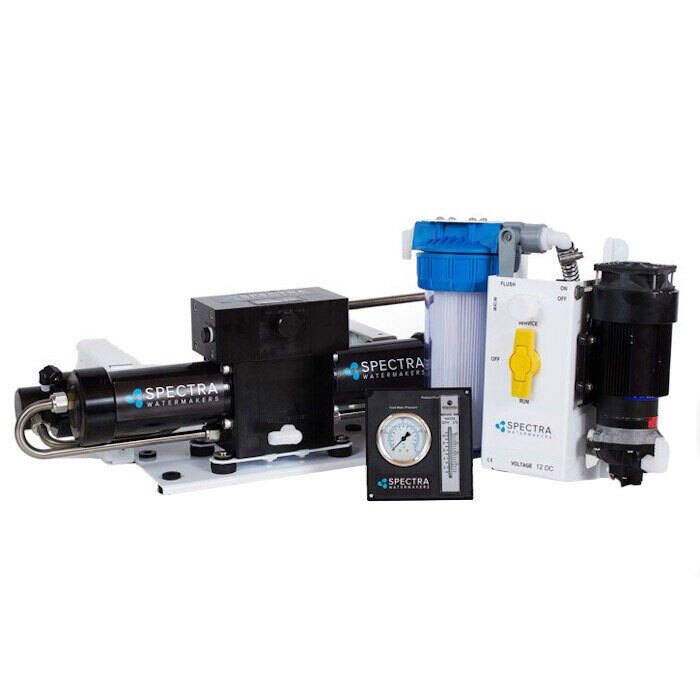 Spectra Watermakers Ventura 200T Watermaker with Analog Control Panel - VT-200-T-12V
Item # 883663
Description
Package Includes:
High Pressure Clark Pump and Reverse Osmosis Membrane Module
Analog Gauge Assembly
Inlet Feed Pump Module with Fresh Water Flush System
Accumulator Tank
Manual
Installation Fittings Kit
5/8" Hose (2 x 25')
Service Kit
The Spectra VT-200-T Ventura Desalinator is the same size and configuration as the Ventura 150, but uses a higher displacement Clark Pump to produce more water. This allows it to operate in warm waters above 50F (10C), delivering more than 8 gallons (31 liters) per hour. With it's modular design, it's an ideal system for installation in tight spaces whether you're cruising, fishing, or racing. Simple analog controls and gauges display the feed-water pressure and the product-flow meter. A hand-held salinity monitor and a three-way valve for product water testing are included.
Features:
Spectra 200T Ventura Desalinator includes installation kit with handheld salinity meter and a water sampling valve
Designed for warm water above 50 degrees F (10 C)
Commercial-grade diaphragm pumps with run-dry protection
Low power consumption; can be run on batteries, solar or wind power
Whisper quiet
Compatible with Spectra's Z±Ion system (sold separately)

Protects membrane, filters on your Spectra watermaker
Specifications:
Fresh water production:

8.3 Gallons (31 liters) per hour
200 Gallons (757 liters) per day

Po10A @ 12V DC
Power Consumption:

14.5W per gallon
4W per liter

Pre Filters:

2.5"x10 " pleated polyester 5 micron
2.5"x10 " pleated polyester 20 micron

Controls: Analog controls
Installation requirements: Dedicated thru hull (sold separately), dry and well ventilated area not to exceed 110 F / 37C
Membranes: 20" x 2.5" High rejection spiral wound polyamide
Pump and Motor: Shurflo diaphragm pump
Salt Rejection: 99.2 %
Temperature range:

Maximum 110 degrees F / 37 degrees C
Minimum 36 degrees F / 2 degrees C

Baseline conditions: 33,000 PPM feed water at 77 degrees F / 25 degrees C
pH Range: 3-11 (typical seawater pH is 8)
Chlorine Tolerance: 0 PPM
Warranty: Spectra standard warranty
Note: The system must be connected to a dedicated 1/2" to 3/4" forward facing scoop type intake, thru-hull and seacock. A brine discharge thru-hull should be above the waterline, along or just above the boot stripe, to minimize water lift and back pressure. (Thru-hulls sold separately)
Part Numbers for Spectra Watermakers Ventura 200T Watermaker with Analog Control Panel - VT-200-T-12V