Spectra Watermakers Ventura 150D Watermaker with Analog Control Panel - VT-150-D-12V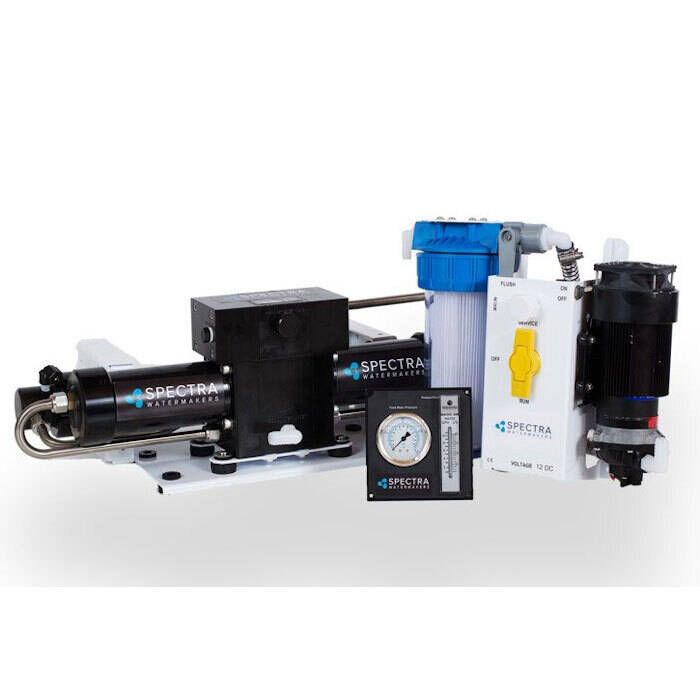 Spectra Watermakers Ventura 150D Watermaker with Analog Control Panel - VT-150-D-12V
Item # 883661
Description
Package Includes:
High Pressure Clark Pump and Reverse Osmosis Membrane Module
Analog Gauge Assembly
Inlet Feed Pump Module with Fresh Water Flush System
Accumulator Tank
Manual
Installation Fittings Kit
5/8" Hose (2 x 25')
Service Kit
The Spectra Ventura VT-150-D Desalinator is engineered for smaller vessels to be energy-efficient and lightweight. The compact, modular design, makes for easy installation in confined spaces. The Ventura 150 operates anywhere in the world and delivers more than 6 gallons (24 liters) an hour. This system has analog controls with an instrument panel containing a feed water pressure gauge and a product flow meter.
Features:
Spectra Ventura VT-150-D Desalinator includes installation kit with handheld salinity meter and a water sampling valve
Designed to work in all water temps for efficient operation from the Arctic to the Equator
Commercial-grade diaphragm pumps with run-dry protection
Low power consumption; can be run on batteries, solar or wind power
Whisper quiet
Compatible with Spectra's Z±Ion system (sold separately)

Protects membrane, filters on your Spectra watermaker
Specifications:
Fresh water production:

6.3 Gallons (24 liters) per hour
150 Gallons (568 liters) per day

9A @ 12V DC
Power Consumption:

17W per gallon
4.5W per liter

Pre Filters: 2.5"x10 " pleated polyester 5 micron
Controls: Analog controls
Installation Requirements: Dedicated thru hull, dry and well ventilated area not to exceed 110 F / 37C (Sold Separately)
Membranes: 20" x 2.5" High rejection spiral wound polyamide
Pump and Motor: Shurflo diaphragm pump
Salt Rejection: 99.2 %
Temperature Range:

Maximum 110 degrees F / 37 degrees C
Minimum 36 degrees F / 2 degrees C

Baseline Conditions: 33,000 PPM feed water at 77 degrees F / 25 degrees C
pH Range: 3-11 (typical seawater pH is 8)
Chlorine Tolerance: 0 PPM
Warranty: Spectra standard warranty
Note: The system must be connected to a dedicated 1/2" to 3/4" forward facing scoop type intake, thru-hull and seacock. A brine discharge thru-hull should be above the waterline, along or just above the boot stripe, to minimize water lift and back pressure. (Thru-hulls sold separately)
Part Numbers for Spectra Watermakers Ventura 150D Watermaker with Analog Control Panel - VT-150-D-12V