Soundown Outboarder Noise Reduction Kit - NOBK1A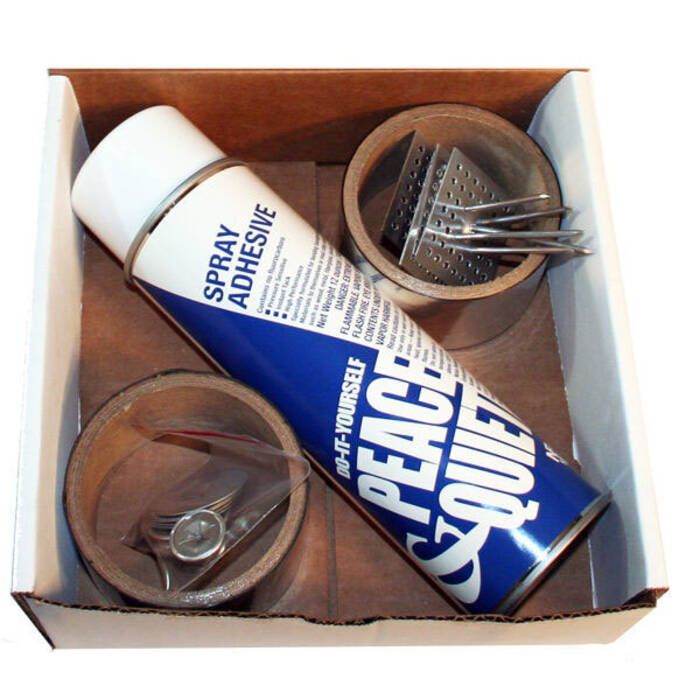 Soundown Outboarder Noise Reduction Kit - NOBK1A
Item # 883620
Description
The Boater's Basic Kit is Noise Reduction Enterprises' Do-It-Yourself soundproofing kit. It is versatile and provides an adequate amount of sound reduction at an affordable price. The kit contains a 1/2" thick sheet of acoustical foam, and all the materials you need to complete an installation yourself.
Note: Fastener sets are not included
Features:
Do-it-yourself soundproofing kit
Effectively lessens engine and hull noise levels
Ideal for use with outboards and small gas engines
Highly efficient materials that offer the latest in advanced materials technology - used alone or together in any combination, will satisfy the majority of noise reduction requirements
Note: This information is offered to you as a general guide, based upon many years of practical experienced. We make no representations that these solutions will work for your specific application - The Buyer assumes full responsibility for determining the suitability of goods for his application.
Soundproofing can be accomplished in stages, depending upon the noise level reduction that you wish to achieve
A "complete" sound proofing job requires total encapsulation of the noise source

Obviously, this is not practical in most applications, and could cause engine suffocation and overheating
Noise Reduction Enterprises suggests you first consider those, areas such as hatch covers, engine boxes, bulkheads, etc., which are most obvious and easily accomplished - then if more noise reduction is required, continue with the remaining surfaces, such as decks, bulkheads, hull surfaces, etc., until an acceptable level has been reached

For severe noise levels, you may have to build a sound enclosure below deck around the engine down to the bilge

Remember to always allow for engine cooling and air intake

To permit future accessibility, always install soundproofing behind piping, wiring, pumps, etc. (remove & reinstall if necessary)
Soundproofing may also be applied to the exposed side (side facing engine) or below deck fuel tanks
Where possible, particularly in overhead areas, we strongly recommend using mechanical fasteners, batts, or some other means of mechanically attaching the material to prevent it from falling onto Hot Exhaust systems or the engine itself
REMEMBER THIS MATERIAL IS FIRE RETARDANT AND NOT FIRE PROOF - IT WILL BURN
The noise you are trying to eliminate is being generated by a mechanical device that also transmits vibration to all mounting surfaces. Over time, the vibration could loosen and detach the soundproofing
The type of material selected generally depends upon the frequency range and intensity of noise pollution. Quiet-Foam (1/2" and 1") is best employed to absorb the higher frequencies usually generated by gasoline engines SuperQuiet Foam (1/2" and 1") is a composite material that offers both sound absorption and sound barrier properties, and is recommended for the low to mid-frequency noises normally associated with diesel engines
If your noise problem is severe, you can double-up, or mix and match the materials for increased effectiveness
In a combination, "Boater's Basic" should be mounted over "Yachtsman's Deluxe" for maximum effectiveness. Use two layers of "Yachtsman's Deluxe" for maximum noise reduction for larger diesel engines. (Mechanical fasteners supplied with kits are long enough to accommodate 2 layers of material.)
In the Box:
(1) 12 oz. can of Extra-Tak Adhesive
(12) Square Feet of 1/2" Thick Foil faced Quiet-Foam
(5) Yards. Foil seam tape
Illustrated instructions
Part Numbers for Soundown Outboarder Noise Reduction Kit - NOBK1A