Sleipner Side-Power SX35 Compact Stern Thruster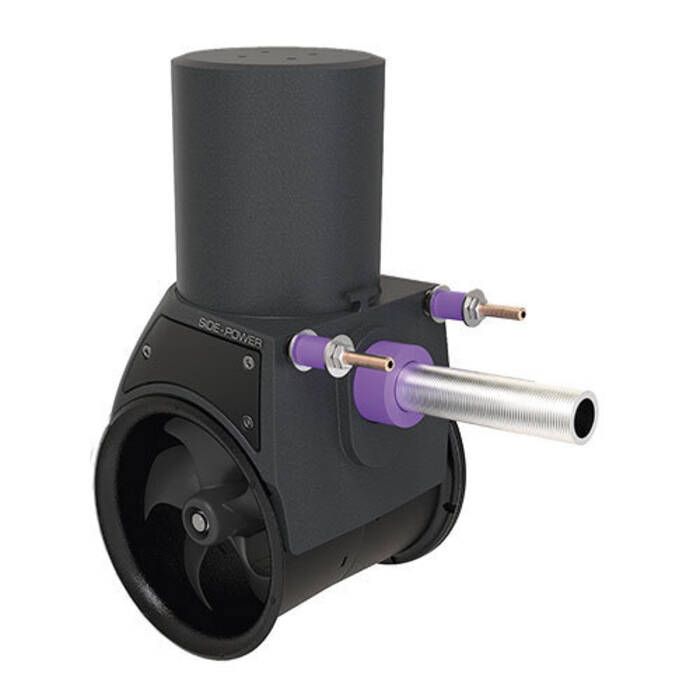 Sleipner Side-Power SX35 Compact Stern Thruster
Item # 883348
Description
The brand new SX series are the world's most compact external bow and stern thrusters that fit where others won't and offer a number of attractive benefits for boat builders as well as retrofit installations. Its versatile installation possibilities and compact size make it a perfect choice for vessels where the inside configuration does not allow a standard thruster installation. Available in 35 and 50 kg thrust as On/off and PRO (variable speed) versions suitable for boats up to 11 m / 37'.
As the Side-Power engineering team has accumulated a vast amount of know-how about externally mounted thrusters over the years, this knowledge has now resulted in a brand new generation of external thrusters. The new generation has been improved in virtually every component and engineered for a more effective manufacturing process in order to reduce production cost and thereby price. Further more, when used as a stern thruster, these models will be the most compact ever. So, if you could not fit a stern thruster before, it might be a good idea to check out our latest generation of external thrusters.
Features:
The world's most compact external thruster
Energy efficient and long run times -- The external placement of the unit provides a more efficient water cooling and allows longer duration per cycle of the unit than with traditional bow and stern thrusters. Even longer run times in PRO (variable speed) version when run at reduced speed
Versatile installation -- The design of the new SX models allows for a large range of different installations as bow and stern thruster for both motor boats and sail boats. Easy installation with no GRP work necessary
Patented Intelligent Power Control (IPC) protection as standard

Provides delay between drive directions
Monitors solenoid functions to reduce the chance of solenoid lock-in
Will stop the thruster in case of a locked-in solenoid, without extra user action and even without controlling a main switch

Integrated PMDC motor for reduced size and optimal cooling
Full aluminum body. Various alloys used for specific purposes. Hard coated and treated for optimal corrosion protection
Optimized tunnel geometry for better performance and reduced noise -- Optimal efficiency of bow model results from a shorter transverse channel and ideal leverage which is created by deeper and more distant positioning away from the pivot point, giving up to 40 % higher efficiency than with conventional tunnel
Sealed gear house -- no oil changes needed
All external stainless parts galvanically isolated from wetted aluminum surfaces
Safety -- Ignition protection. Can be installed in stern locations/ on compartments with high octane fuels due to hermetically sealed housing. ISO 8846 and UL 1500 certified. Galvanic isolation kit for metal/aluminium hulls and safety protection grids available as accessories
Very Quiet -- With a short and optimally designed tunnel, vibration absorbing sleeves on all hull connections, 5-bladed Q-prop™ and the fully submerged unit, the thruster operates remarkably quiet with less vibration
By adding the Hydropod low drag cover, the new SX models can be mounted under the hull in the water flow for low- and mid-speed vessels. The optimal design adds minimal drag and will in most installations not be noticeable. The in-flow configuration is perfect for boats where it is difficult to fit a tunnel thruster or for example as a stern thruster for cruising sailboats
Available Accessories:
Adjustable cowl kit to direct water flow
Protection grid kit for added safety for water sport boats
Spacer/galvanic isolation block 10mm
Spacer/galvanic isolation block
Specifications:
Thrust at 12V/24V: 43kg (93lbs)
Thrust at 10.5V/21V: 35kg (77lbs)
Typical boat size: 6-10m (19-33ft)
Tunnel inner diameter: 140mm (5.5in)
Propulsion: Single
Power at 10.5V/21V: 1.8 kW (2.4hp)
For DC System: 12V
Weight: 15.3 kg (34lbs)
Min. battery capacity (CCA 12/24V): 300A
Signal type: Analog
All Side-Power thrusters gets their thrust rating from the actual performance you can expect in a boat - at the voltage a normal installation will provide at the thruster. We have chosen to use the net performance at 10.5V/21V, but we also list the effect at 12/24V for comparison.
All battery CCA ratings are stated with the DIN rating, multiply by 1.9 to to get the SAE equivalent (at 0°F, ABYC standard).
WARNING
---
This product can expose you to chemicals which are known to the State of California to cause cancer, birth defects or other reproductive harm.
For more information go to www.p65warnings.ca.gov.
Part Numbers for Sleipner Side-Power SX35 Compact Stern Thruster