Sleipner Side-Power DC Thruster (On/Off) - SE25/110S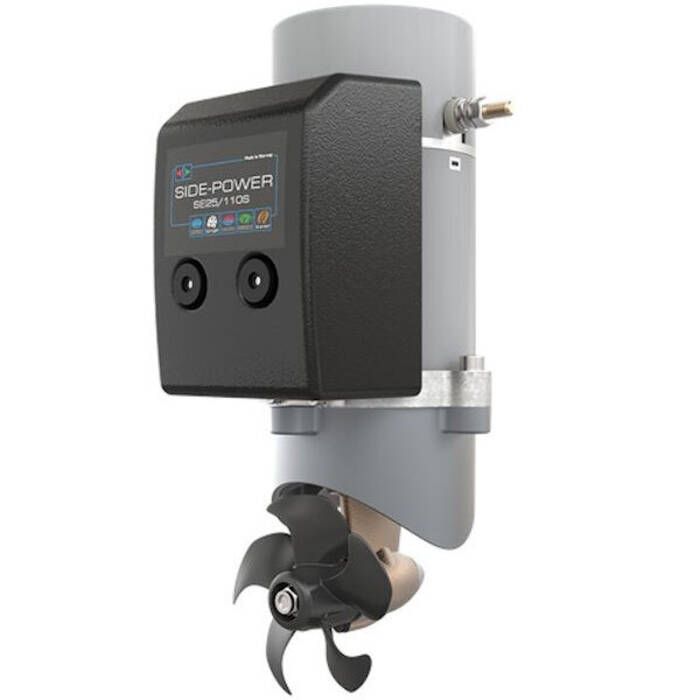 Sleipner Side-Power DC Thruster (On/Off) - SE25/110S
Item # 883398
Description
The world's leading series of bow and stern thrusters for leisure boats is the SE series from Side-Power. Side-Power offers the world's largest range of DC thruster systems for leisure boats.
The new SE25 incorporates all the features and quality demanded by expert yacht builders around the world , and now they are available for even smaller vessels. With the SE25, Side-Power adds yet another tunnel diameter to their extensive program.
With a tunnel diameter of only 110mm, the SE25 is suitable for vessels up to 24 feet depending on vessel windage area. As with all the other thruster models in the SE series, the SE25 also offers tremendous installation flexibility. The thruster can be installed on the tunnel in any angle and the thruster motor can be rotated on the motor bracket in 90-degree steps.
The SE25 series is galvanic insulated, just like the larger thrusters in the SE series, and features Side-Power's patented Intelligent Power Control (IPC) technology for safety.
The SE25 is only available for bow installation.
Features:
Intelligent Power Control he Side Power unique thruster controller that intelligently protects the thruster from potential inherent problems in all high current applications as well as user faults. It includes several important safety features imperative in a product with such high power, run by DC electrics, as a thruster

Provides delay between drive directions
Monitors solenoid functions to reduce the chance of solenoid lock-in
Will stop the thruster in case of a locked-in solenoid, without extra user action and even without controlling a main switch

Single Propeller

A properly engineered single propeller system will be the most energy efficient thruster
Compact design fits easily into narrow bows making it the perfect match for smaller models
With more than 60,000 single propeller thrusters in use, the Sidepower single series system has proven its reliability

Q-prop™

5-blade special skew propellers are the result of over 2 years of development work and thousands of tests
Designed to reduce noise level, while maintaining exceptional efficiency of prior 4-blade Side Power propellers
Thrust has been increased by 5% on some thrusters; see individual information on each new thruster for more details
Noise reductions of up to 75% measured in controlled environments
Expected and tested normal noise reduction in average installations:

20-40% will be delivered on all Side-Power models except models with 300 mm and 385 mm tunnel diameter

Upgrade kits are available for most SP series thrusters with special adaptors

Sealed, lifetime lubricated gear leg

Sealed gear leg with long-life "mechanical" seal where highly polished ceramic and carbon surfaces make up the only moving sealing surfaces, ensuring protection against damaging water intrusion into gear leg
Pre-filled with special gear oil for lifetime lubrication. "Mechanical" seals with surfaces of ceramic and carbon for ultimate security against water intrusion

Galvanic Separation

Gearhouse / drive legs of most Side Power DC electric thrusters are now fully galvanically isolated / separated from the electric motor and motor bracket
Ensures that in the event of a short circuit or current leak for other reasons, the immersed parts are not affected as they could be with direct electric contact
Galvanic separation achieved by composite bushings installed around bolts and beneath washers, and a bushing in the motor bracket electrically isolating the drive housing from the motor bracket
Available on DC electric models with flexible couplers only, where the flexible coupler provides galvanic separation of the motor and gear leg shaft
SE Series Features:
Standard, Single Speed (ON / Off) bow and stern thrusters
These standard bow and stern thruster series are the base for all Side-Power extensive range of DC electric thrusters
They are fitted in a tunnel through the bow, or into stern tunnels to use as a stern thruster
Electric motors, solenoids and patented Intelligent Power Control (IPC) system provide for safe, reliable performance
Maintenance-free, sealed gear leg for easy installation and powerful, purpose-built electric motor
Mechanical parts of propulsion system are all custom designed and built utilizing extensive experience gained through years of leadership in the global thruster market
Specifications:
Thrust at 10.5/21V : 25 kg / 55 lb
Thrust at 12/24V : 30 kg / 66 lb
Typical boat size: Up to 24' / Up to 7.3 meter
Tunnel ID: 110 mm / 4.33"
Propulsion: Single prop
Power at 10.5/21V : 1.5 kW / 2 HP
For DC system: 12V
Nominal current draw: 200 Amp
Weight: 9.5 kg - 21 lb
Minimum Battery Capacity (CCA 12 / 24V): 200/380
Control system: Analog
All Side-Power thrusters gets their thrust rating from the actual performance you can expect in a boat - at the voltage a normal installation will provide at the thruster. We have chosen to use the net performance at 10.5V/21V, but we also list the effect at 12/24V for comparison.
All battery CCA ratings are stated with the DIN rating, multiply by 1.9 to get the SAE equivalent (at 0°F, ABYC standard)
Other items to consider when purchasing a new thruster: (Sold Separately)
Bow Tunnel or Stern Tunnel
Control Panels and Remote Controls
Automatic Main Switch, Battery Disconnect, Fuse & Fuse holder
4-Wire Harnesses (when not using Automatic Main Switch)
5-Wire Harnesses (for use with Automatic Main Switch)
Product Data Sheet with Dimensional Drawings
Owner's Manual and Installation Guide (2.09 MB)
WARNING
---
This product can expose you to chemicals which are known to the State of California to cause cancer, birth defects or other reproductive harm.
For more information go to www.p65warnings.ca.gov.
Part Numbers for Sleipner Side-Power DC Thruster (On/Off) - SE25/110S